Community Health Worker
Angelica De Acosta, C.H.W.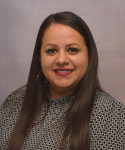 Leer sobre Angelica De Acosta en Espanol.
Education
• Minnesota West Community & Technical College, Worthington, Minnesota
Internship
• Mayo Clinic Health System. St. James, Minnesota
Specialized Training
• Minnesota National Guard, Chaplain Assistant, Fort Jackson, South Carolina
• COVID-19 Contract Tracer
Certifications
• Community Health Worker Certificate Program
• The Interpreter Advantage (TIA) Certificate Program
About My Practice
I am your advocate for health equity. I will work to ensure you have the chance to be as healthy as possible. Sometimes factors outside of your control can prevent you from achieving your best health, so I am here to help you bridge that gap between your identified medical need, or the identified barrier to your health care need, and helping you navigate the health care system and to connect you with community resources. I am a compassionate person and am here to assist you. I am a listening ear and helping hand. I can provide education and help connect you to appropriate resources to help you attain your best health. My goal is to help my patients so they are self-sufficient in managing their care needs.
About Me
I enjoy spending time with my family and love seeing nature's natural beauty. I am passionate about helping my patients.