Specialties, Services & Treatments
Mobile Health Clinic
Care where you need it
Mayo Clinic Health System is committed to providing the expert care where you and your family need it. Whether you are seeking routine or preventive care, we have convenient and safe options available, including virtual or in-person appointments with mobile clinic care.
Our Mobile Health Clinic includes two exam rooms, an on-site laboratory and telehealth equipment connecting patients to Mayo Clinic providers for care.
We provide preventive health screenings, chronic disease management and community partnerships.
Services include:
Acute illness/infection
Anticoagulation/INR checks
Chronic disease checks
Immunizations
Pacemaker checks (virtual)*
Pediatrics*
Preventive services
Specialty consults (virtual)*
Sprains and fractures — If casting or imaging (X-ray/CT/MRI) is required, you may be referred to a brick and mortar facility*
Wellness visits
*Any Mobile Health Clinic visit may be subject to a referral to a Mayo Clinic Health System facility. Labs with immediate results are not available.
Regardless of where you receive care, your health information will be readily available to Mayo's care teams. By using the same electronic health record, Mobile Health Clinic allows for the most efficient and effective care, close to home.
Your health care needs come first — no matter where you live. Because of our collaboration with Mayo Clinic, you'll have the peace-of-mind knowing that you are always connected to thousands of the world's leading medical experts.
Virtual tour**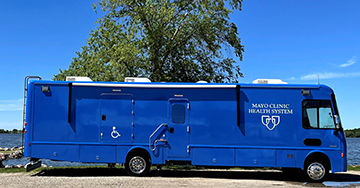 Take a 360° tour of the Mobile Health Clinic. Use your mouse to click and drag to explore this 3D virtual tour.

**Tour is for illustration purpose only and may not be the exact representation of the final Mobile Health Clinic.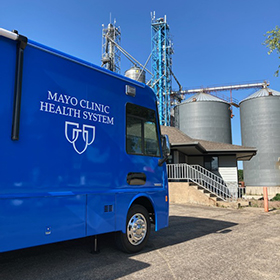 Kenyon, MN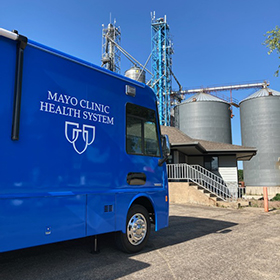 Butterfield, MN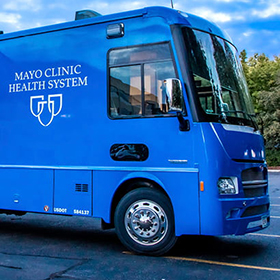 Sherburn, MN