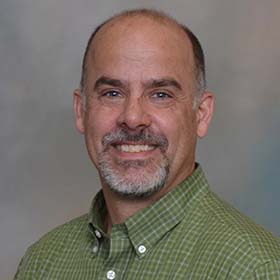 Appointment Information
Eau Claire, WI
Hospital
1221 Whipple St., Eau Claire, WI 54703

Appointments
Menomonie, WI
Psychiatry & Psychology
2403 Stout Road, Menomonie, WI 54751

Appointments
Provider's Bio
Deep and lasting change is my goal while acknowledging short term changes are the steps in the journey. I view therapy as the opportunity to come alongside you during your journey to help you heal and grow, to live truer to who you are and make the healthiest decisions you can. I address both immediate issues and long-term patterns of thought, behavior and relating.
I utilize a Christian worldview to understand people's value, motivations, challenges and needs but work with people of all faiths. I use my education and experiences in engineering and carpentry work to provide practical and relatable illustrations.
I grew up in Eastern Pennsylvania, learning to work on cars in my dad's mechanic shop. I had good times riding bikes and motorcycles, fishing, boating and building and driving RC Cars. After college and various jobs, I realized I was good with people and wanted to become a counselor.
During my life journey, I became aware of my own mental disorders and addressed them in therapy. I spent 22 years in Atlanta, Georgia, with 19 of them working in counseling and running my own handyman business. However, I missed the snow of the North, so Wisconsin became my family's new home. I am married and have four daughters. I love being outside, riding motorcycles, fixing things, learning new things and meeting new people.
Training & Credentials
Education
Bachelor's degree, Mechanical Engineering, Penn State University
Master's degree, Mechanical Engineering, Penn State University
Master's degree, Professional Counseling, Richmont Graduate University
Internship
Outpatient Counseling, Mount Paran North Church
Certifications
Certified Professional Counseling Supervisor
Certified Trauma Resolutions Therapist
Memberships
American Association of Christian Counselors
Professional Counseling Association of Georgia
Professional Counseling Association of Wisconsin
Special Interests
Addicted family member
Anxiety
Bi-polar disorder
Boundaries
Career issues
Conflict resolution
Grief
Healing abuse issues (emotional, mental, spiritual)
Healing trauma issues
Identity
Life direction
Low self-esteem
Marital counseling (affair recovery, communication, conflict, parenting concerns, sexual issues)
Relationship problems
Sexual issues
Spiritual/faith concerns
Find More Providers