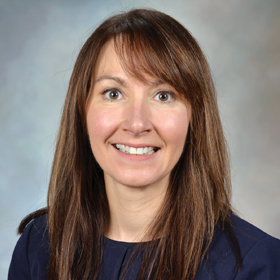 Learn more about me:
Appointment Information
Fairmont, MN
Hospital and Clinic
800 Medical Center Drive, Fairmont, MN 56031

Appointments
Mankato, MN
Eastridge Clinic
101 Martin Luther King Jr. Drive, Mankato, MN 56001

Appointments
Provider's Bio
When a patient is seen in Sleep Medicine, often we spend the first part of the visit discussing their typical sleep schedule and what a night of sleep is like for them. The more we can find out about a patient's typical sleep pattern, the better we are able to determine what might be causing any sleep problems they are having. From there, we will discuss the most likely diagnoses followed by treatment options to consider. At the end of the visit, we review the plan as well as any questions that may come up.
I grew up and have many roots in the communities in rural, southwest Minnesota. I grew up on a farm in southwest Minnesota. Outside of work, I enjoy spending time with my family and friends. I enjoy outdoor activities as well as baking and quilting.
Training & Credentials
Medical School
Internship
Neurology, University of Minnesota
Residency
Neurology, University of Minnesota
Fellowship
Sleep Medicine, Minnesota Regional Sleep Disorders Center
Certification
Neurology, American Board of Psychiatry and Neurology
Sleep Medicine, American Board of Psychiatry and Neurology
Membership
American Academy of Neurology
American Academy of Sleep Medicine
Academic Appointment
Senior Associate Consultant, Mayo Clinic College of Medicine and Science
Special Interests
Community education
Public health
Find More Providers