Need to make an appointment?
Radiology and Imaging
The Sparta Radiology Department uses state-of-the-art digital equipment to provide diagnostic services including CT scans, ultrasound, mammography and x-ray services. The quality of the imaging services available in Sparta is the same as patients would expect to receive in La Crosse or Rochester.

CT Scanning
The Sparta Radiology Department recently upgraded to a 64-slice scanner and has increased the number of exams available for patients in Sparta. Scans are completed more quickly and produce superior images. Results are returned within the same day.
Mammography
The Sparta Radiology Department offers full field digital mammography for breast cancer screening in a comfortable, home-like setting. All images are sent electronically to radiologists in La Crosse for review. Our patients typically receive their results in less than a week. Women 40 years and older can be screened for breast cancer.
Bone Density Testing
A mobile health screening unit for bone mineral density visits Sparta on a regular basis. A bone density test — also called densitometry or DXA scan — determines whether you have osteoporosis or are at risk of osteoporosis. The totally self-contained screening van accommodates imaging services staff to perform and provide screening services for women in a confidential manner. Women 50 years and older can be screened for osteoporosis.
X-Ray
The Sparta Radiology Department uses an advanced radiographic imaging system to provide excellent images with a variety of image manipulation and post-processing tools. Even the toughest exam can be streamlined, reducing the need for retakes and getting results back to the patient faster.

Information and appointments: 608-269-2132.
Locations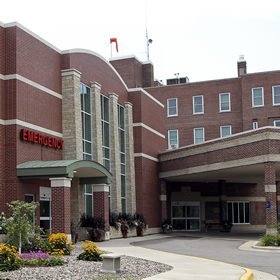 Hospital and Clinic
310 W. Main St., Sparta, WI 54656
Hours:

Mon-Fri:

9:00 AM - 4:00 PM