Need to make an appointment?
Pediatric & Adolescent Medicine
Pediatric & Adolescent Medicine in Rice Lake
Beginning at birth and continuing through high school and college, we offer Pediatric & Adolescent Medicine Department patients specialized care in Rice Lake, Wisconsin, for all their health needs. In addition to board-certified pediatricians, we are supported by nurse practitioners, certified nutritionists, psychologists, athletic trainers, physical therapists, nurse specialists and lab technicians.
Learn more about our Pediatric & Adolescent Medicine services.
We also offer services in Barron, Chippewa Falls, Eau Claire and Menomonie.
Chaperone policy
A patient or the patient's legal representative, such as a parent, guardian or surrogate, has the right to request a chaperone during the patient's examination or treatment. A care provider may request to have a chaperone present during the patient's examination or treatment.
Vaccinations
Disease prevention is crucial to your health. Getting vaccinated is one of the best ways to maintain good health, and protect you and those you care about against infectious diseases. Vaccinations offer protection against serious diseases by stimulating the immune system to create antibodies against certain bacteria or viruses.
Get vaccine guidance from Mayo Clinic, including benefits, safety, side effects and what to know about recommended vaccines for babies, children, teens, adults and during pregnancy. For recommended vaccines based on age, refer to the adult or child and adolescent schedules.
Review the history of infectious disease outbreaks and vaccines timeline for information about major disease outbreaks, epidemics and pandemics, and the impact of vaccines and research.
Parenting tips and resources
Health tips for all stages of your child's life
Illness and Immunizations
Nutrition
Kids often want to just stick to eating their same favorite foods. But, often, those aren't the healthiest for them, and some variety would do them good. Learn how getting kids in the kitchen can also get them to try new things by watching this video:
Videos
Just for fun
Locations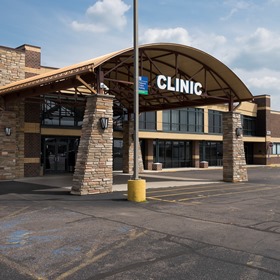 Clinic
331 S. Main St., Suite H, Rice Lake, WI 54868
Hours:

Mon-Tue:

8:00 AM - 5:00 PM

Thu:

8:00 AM - 5:00 PM
Providers
Related Upcoming Classes and Events View More