Need to make an appointment?
Mammography
Mammography in Onalaska
Screening mammography in Onalaska, Wisconsin, is used to detect breast changes in women who have no signs or symptoms, or observable breast abnormalities. The goal is to detect cancer before any clinical signs are noticeable. This usually requires at least two images of the breast from different angles. The American Cancer Society recommends yearly mammograms starting at age 40 and continuing for as long as a woman is in good health. Women should report any breast change promptly to their health care provider.
Schedule your mammogram online with Patient Online Services.
New to Mayo Clinic Health System? Schedule with our Online Screening Form.*
*Have your insurance information available, and plan for five to 10 minutes to complete.
Early detection saves lives
Undiagnosed breast cancer can lead to serious complications and even death. In addition to regular breast self-exams, a mammogram is the most accurate method available to detect breast disease when no symptoms exist.
Consider using your birthday as a reminder to celebrate good health by scheduling a mammogram. Your provider will let you know if you should be screened more or less frequently based on your health history.
Learn more about 3-D mammography in Onalaska.
Note: While COVID-19 vaccines can cause swollen lymph nodes under the arm where the vaccination was administered, this is no reason to delay getting a mammogram. Learn more about COVID-19 mammogram recommendations.
Locations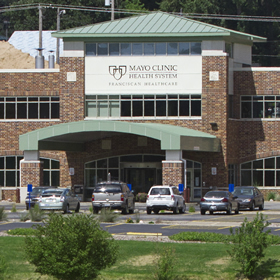 Clinic
191 Theater Road, Onalaska, WI 54650
Hours:

Mon-Fri:

9:00 AM - 4:00 PM