Need to make an appointment?
Dialysis Services in Menomonie
When you need dialysis or hemodialysis, you can get individualized care from our experienced kidney experts in Menomonie, Wisconsin. Also called comprehensive renal replacement therapy, dialysis removes waste products and extra fluid that accumulate when kidneys stop working. It also regulates chemical imbalances that accompany kidney failure.
Treatments
We specialize in lifesaving treatment for kidney disease or kidney failure.
Treatments we provide include:
Chronic and Acute Kidney Disease (renal failure) Clinic, where a dedicated team of providers work together to provide comprehensive care
Home dialysis training and support for peritoneal dialysis
In-center hemodialysis
Outpatient dialysis services
Preemptive kidney transplantation evaluation
Nutrition counseling for people who need ongoing nutritional guidance from dietitians with expertise in kidney disorders
Temporary dialysis if treatment is needed while traveling
If you're developing end-stage renal disease or acute kidney injury, you may be treated in an outpatient dialysis center, which offers in-center and at-home dialysis training.
Hemodialysis vascular access
If you're receiving chronic hemodialysis, easy access to your bloodstream is required. The access is your lifeline, and special care is necessary to ensure it continues to function properly.
The type of access is individualized and can include:
Arteriovenous fistula
A fistula is made through the blood vessels, usually in the arm.
Polytetrafluorethylene, or PTFE, graft
A graft is made by a surgeon who inserts a synthetic material tube that links an artery and a vein under the skin, usually in the arm.
Venous catheter
A catheter is inserted into a vein, usually in the neck, and may be placed by a vascular surgeon or interventional radiologist.
The procedure is done in the operating room, and patients are given a local or general anesthetic.
Our vascular surgeons are skilled and experienced in creating all types of vascular access and are leaders in vascular access innovation. Mayo's interventional radiologists are experts in imaging, and declotting and opening the vascular access. Interventional radiologists also insert dialysis catheters. Vascular surgeons, interventional radiologists and nephrologists work together to provide quality access care.
During your dialysis treatment, you'll be regularly checked to ensure your hemodialysis access works properly. This part of the process helps minimize unexpected malfunctions or clotting. Vascular surgeons and interventional radiologists are available to help insert new hemodialysis access devices, revise old access devices to maintain their function, and help to declot and repair fistulas or grafts.
Dialysis specialists
Our experienced team of kidney and dialysis specialists collaborate during your treatment under the direction of a dedicated medical director.
Our specialists include:
Nephrologist
Nurse practitioner
Nurses
Patient care technicians
Renal dietitian
Social worker
Technical staff
Transient dialysis support
People on dialysis usually are seen for a brief review of their dialysis program and active medical problems. Call us to request transient dialysis support. We'll talk to the nursing staff in your current dialysis facility.
We also help people arrange for an appointment with a Mayo Clinic nephrologist.
We have provided dialysis services for more than 50 years, and our centers in northwest Wisconsin are nationally recognized for their high-quality patient care.
Locations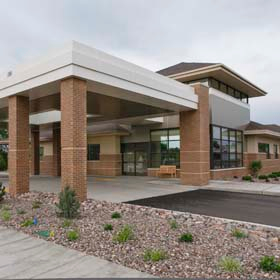 Mayo Clinic Dialysis
507 21st St. NE, Menomonie, WI 54751
Hours:

Mon:

6:00 AM - 5:00 PM

Wed:

6:00 AM - 5:00 PM

Fri:

6:00 AM - 5:00 PM