Need to make an appointment?
Mohs surgery is a minimally invasive outpatient procedure that results in the highest cure rates and causes only minor skin and tissue damage when treating skin cancer.
A layer of skin surrounding a lesion is removed and examined under a microscope to determine the location and spread of tumor roots. If tumor roots are present at the margin, smaller parcels of skin are removed only in the direction where tumor roots are present. This is shown in the images below/on the right [adjust this wording based on where you insert the image. Original art can be found here]. When no more roots are detected at the margin and the cancer has been cured, the affected area is cosmetically repaired.
Mohs surgery is performed within two to eight hours, depending on the extent of the cancer, and it only requires local anesthesia.
Advanced training
At Mayo Clinic, surgeons who perform Mohs procedures are required to undergo the most rigorous training in the field. They have completed an additional one- to two-year fellowship in micrographic surgery and cutaneous oncology.
Call to schedule an appointment.
Watch this "Mayo Clinic Minute" video to learn how Mohs surgery is used to fight skin cancer:
Locations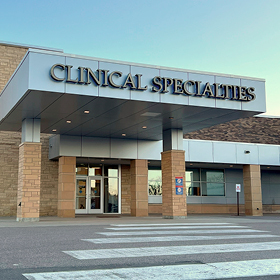 Madison East Health Center
1400 Madison Ave., Mankato, MN 56001
Hours:

Mon-Fri:

8:00 AM - 5:00 PM

Hours subject to change on holidays.
Providers
Related Upcoming Classes and Events View More
Melanoma and Your Skin
Mankato, MN