Need to make an appointment?
Infusion Therapy
Infusion therapy refers to delivering medication and nutrition directly into the veins, also known as intravenous or IV administration.
Infusion therapy allows you to spend more time with friends and family in your own environment and less time in the hospital. With a decreased risk of infections, you are able to return to work or school more comfortably and safely. Not to mention, medical costs are lower because you receive care on a come-and-go basis rather than as part of a hospital stay.
Treatments include:
The infusion center is a warm, aesthetic environment that offers the following amenities:
Recliner chairs with massage and/or heat features
Outdoor view to flower gardens
Access to private cable TV during the entire infusion
Hand massages available once a week
Warm blankets upon request
Snacks and beverages
Nutrition area with a microwave
Local newspaper
Education materials
Volunteers are available at all times to meet your needs
Visit our related services for more information:
Locations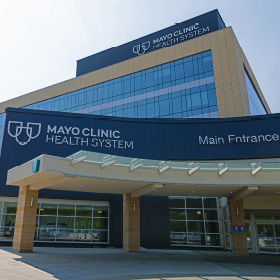 Campus Map (PDF)
Hospital and Clinic
1025 Marsh St., Mankato, MN 56001
Andreas Cancer Center Hours:

Mon-Fri:

8:00 AM - 4:30 PM
Related Upcoming Classes and Events View More
Cancer Support Group
Mankato, MN