Don't let digestive issues control your life.
Need to make an appointment?
Hospital and Clinic

Hospital and Clinic
Gastroenterology & Hepatology (Digestive Care)
Hepatitis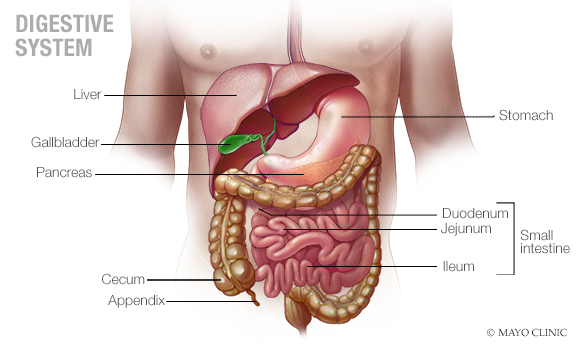 Hepatitis means inflammation of the liver. The liver is a vital organ that processes nutrients, filters the blood and fights infections. When the liver is inflamed or damaged, its function can be affected. Hepatitis is often caused by a virus. In the U.S., the most common types of viral hepatitis are hepatitis A, hepatitis B and hepatitis C.
Hepatitis A is an acute infection (lasting days to weeks) that usually resolves on its own. There is a vaccine that is effective at preventing infection. There is no specific treatment.
Hepatitis B can cause an acute or a chronic (persistent) infection. A vaccine is also available; in fact, vaccinations against hepatitis A and B often are given simultaneously. There also is effective treatment with oral medications that typically require lifelong therapy.
Hepatitis C can cause an acute or a chronic (persistent) infection. No vaccine is available. One of the most remarkable medical advances in last decade has been the development of highly effective, safe treatment of hepatitis C, with cure rates approaching 100% and duration of treatment of only two to three months.