Careers
Nursing Excellence in Mankato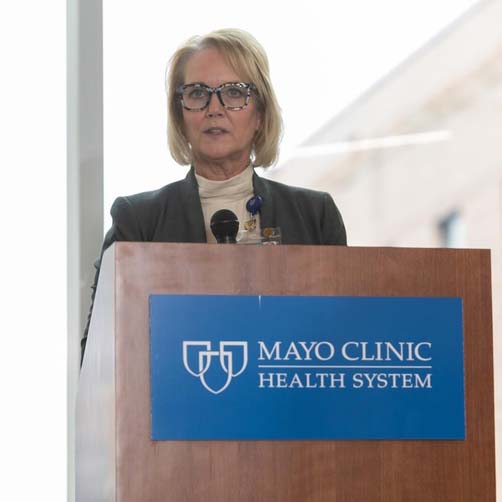 As chief nursing officer in the Southwest Minnesota region of Mayo Clinic Health System, I have the opportunity to provide leadership to about 1,700 dedicated, skilled nursing staff. Department of Nursing staff includes nurses, certified nursing assistants, patient care associates, technicians and other allied health roles.
We serve patients in Mankato in addition to Belle Plaine, Fairmont, Janesville, Le Sueur, Montgomery, New Prague, Sherburn (mobile clinic), St. James, St. Peter, Waseca and Waterville. Care is delivered to patients in across a variety of settings, including hospitals, clinics, and within homes and our communities.
Our primary value — the needs of the patient come first — is a priority for our staff. The nurses and all staff keep patients' needs and outcomes at the forefront of their minds, focusing on quality and service. Our evidence-based approach is consistent, and it's promoted throughout all our locations. We encourage shared decision-making, research, innovation and leadership through participation on various committees and councils, not only within our region, but also throughout Mayo Clinic.
Nursing is an amazing profession that truly is rewarding.
Lisa A. McConnell, M.S., R.N., N.E.-B.C.
Chief Nursing Officer, Mayo Clinic Health System, Southwest Minnesota
We invite you to consider joining our Department of Nursing team, where nursing is not only our profession, but also our passion.
Search for Department of Nursing career opportunities with Mayo Clinic Health System.
Use the location field to narrow your search by entering a Mayo Clinic Health System site.
To receive job alert notifications, sign up for our Talent Community.
Watch a video to learn more about working in the greater Mankato area:
Learn more about nursing in our region:
Nursing research
Multidisciplinary nurse-led research teams investigate interventions and discover new care delivery methods to address unmet patient needs and improve outcomes. Research-generated knowledge provides the evidence to inform and transform nursing practice.
Nursing innovation
Our nurses have access to the latest technology and innovative care models that deliver the safest patient care possible, including:
Electronic hand-washing monitoring
Enterprise staffing pool — a travel RN team that provides contingency staffing support across Mayo Clinic nursing sites as determined by staffing and patient care needs.
Nurse video visits
Virtual RN — a telemedicine program that allows nurses to communicate with patients in hospital rooms as an additional layer of support to the in-person care team
Nursing education and professional development
We offer many opportunities for nurses to advance their professional nursing skills, including:
All newly graduated nurses employed at Mayo Clinic Health System in Southwest Minnesota receive a comprehensive orientation, including training at Minnesota State University-Mankato, College of Allied Health & Nursing simulation center, that prepares them for practicing in their nursing specialty environment.
The Nurse Residency Program is a rigorous training program that builds leadership and professional skills, as well as provides supplemental transition support during the first year. The program is based on the standards set by the American Nurses Credentialing Center (ANCC) Practice Transition Accreditation Program (PTAP) for RN residencies.
The nurse tech role is for students who have completed a nursing program to be mentored for future roles as nurses.
Each year, the Student Nurse Intern Program provides nursing students with direct patient care under the direction of licensed nursing staff.
Mayo Clinic offers four levels of academic rank including Instructor, Assistant Professor, Associate Professor and Professor.
The Nurse Manager Leadership Development Program, unique to our region, offers new and experienced managers opportunities to enhance their leadership capabilities and core skills, receive mentoring and create a personal leadership development plan.
We offer nursing conference funding to promote career development.
The Nursing Professional Governance Council utilizes collaborative decision-making and empowers nursing staff to have input and impact on their professional practice.
Quality
The nursing care teams at Mayo Clinic Health System in Southwest Minnesota continuously strive to provide the highest quality of care and safety to patients. Our care quality is consistently recognized by high performance scores on many national ratings and rankings such as Leapfrog, CMS star ratings, HCAHPS and U.S. News & World Report. View some of the recognitions on the Quality and Safety Recognitions page.
Nursing recognition
We offer multiple ways to recognize nursing staff, including:
Mae Berry Service Excellence Award
Each year, allied health staff from Arizona, Florida, Rochester and Mayo Clinic Health System are honored with this award — Mayo Clinic's highest honor in service excellence. Recipients from across the organization gather with their loved ones, leaders and award creator Leonard Berry, Ph.D., to be honored at a recognition event hosted in Rochester, Minnesota.
Nursing certification
Our registered nurses are encouraged to obtain specialty certification, which promotes excellence in nursing care through the national standards of practice. We offer career development funding opportunities that covers the financial investment on behalf of nurses that choose to pursue certification.
The DAISY Award® for Extraordinary Nurses
The DAISY Award, presented in collaboration with The American Organization for Nursing Leadership (AONL), is part of the DAISY Foundation's program to recognize the "super-human" efforts nurses perform. We're proud to be among the organizations participating in The DAISY Award program. It's important that our nurses know their work is highly valued, and The DAISY Foundation provides a way for us to do that. Mayo Clinic Health System is among more than 5,400 health care facilities and schools of nursing in all 50 states, and 33 countries and territories committed to The DAISY Award program. Nominate a nurse for The DAISY Award. Based on specific criteria, an RN will be selected monthly to receive The DAISY Award. Nurses receive a certificate, statue, presentation and more.