Our Locations
With locations across the Midwest, you have the ability to receive Mayo Clinic care close to home.
Need to make an appointment?
Diabetes Education
Take charge of your diabetes.
When you have diabetes, you discover there is a lot to learn. You may have questions about nutrition and meal planning, exercise, blood glucose monitoring or insulin injections.
You probably also have some strong feelings to work through. Your lifestyle has changed dramatically, and change can be difficult.
Our goal is to teach you and your family how to manage your disease well. We believe that through knowledge and support you can achieve healthy living and greater independence.
Our professional staff includes certified diabetes educators and is available to you. Our team will assist you in learning the concepts and skills necessary for day-to-day management.
Team members include:
Your physician
Diabetes nurse educators
Registered dietitians
Exercise physiologists
Social service professionals
Psychologists
Eye care specialists
Podiatrists
Teaching sessions are conducted in both inpatient and outpatient settings, whichever is most appropriate for you.
Pediatrics
Through teaching sessions specially-designed to communicate with young patients, the child and family members learn survival skills to be used for management at home. These include learning how to give insulin, monitor blood glucose and plan meals. Ongoing emotional support is offered through enjoyable youth activities.
Diabetes Clinic
The Diabetes Clinic is a specialized team approach for the medical and educational management of diabetes. The clinic involves an assessment with a diabetes nurse educator, a registered dietitian and an endocrinologist, a physician who specializes in diabetes care. All services are provided on the same day. The diabetes team, together with you and your physician, will develop a diabetes management plan of care especially for you.
Support Group
The monthly support group for adults with diabetes is an opportunity to share ideas and gain support in day-to-day management of diabetes. Our diabetes patient education program has been awarded recognition by the American Diabetes Association in accordance with the national standards for diabetes patient education programs.
Locations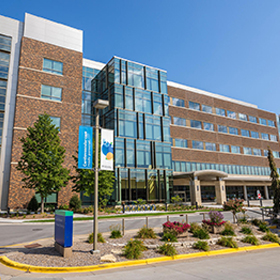 Campus Map (PDF)
Hospital
700 West Ave. S., La Crosse, WI 54601
Hours:

Mon-Fri:

8:00 AM - 5:00 PM