Expert hearing & balance care
Need to make an appointment?
Audiology (Hearing)
Hearing Aid Types
Hearing aids vary in price, size, special features and the way they are placed in your ear.
Hearing aids are continually made smaller to meet popular demand for not being noticeable. However, the smaller aids may not have the power to give you the improved hearing you may expect.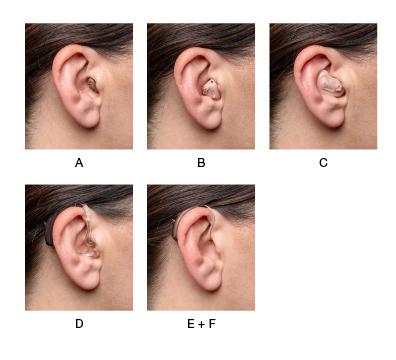 Common hearing aid styles include those that fit:
Completely in the canal (A)
In the canal (B)
In the ear (C)
Behind the ear (D)
With the receiver in the canal or ear (E)
Open fit (F)
Learn more about each style.
Technology is advancing the way we can help people with hearing loss and how hearing aids work. Hearing aids have digital sound processing and can connect directly or indirectly to cell phones and other personal electronic devices. We provide aids with the latest technology, but keep in mind that small size does not equal quality or need.
You and your audiologist will work together to find the best fit for your individual hearing needs. We ensure proper settings of hearing aids by verifying each fitting with the gold standard of real ear measurements.
Call 715-838-6968 to make an appointment in Eau Claire, Menomonie or Rice Lake.