Specialty care
made personal.
Need to make an appointment?
Radiology and Imaging
Bone Density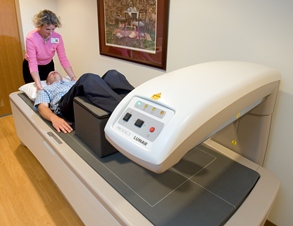 Bone density testing is available in Chippewa Falls, Wisconsin. A bone density test determines if you have osteoporosis, which is a disease that causes bones to become more fragile and more likely to break.
When you have a bone density test, X-rays measure how many grams of calcium and other bone minerals are packed into a segment of bone. The bones most commonly tested are in the spine, hip and forearm.
In the past, osteoporosis could be detected only after you broke a bone. By that time, however, your bones could be quite weak. A bone density test makes it possible to know your risk of breaking bones before the fact.
Osteoporosis is more common in older women, but men also can develop the condition.
Regardless of your sex or age, your provider may recommend a bone density test if you have:
Lost height. If you have lost at least 1.6 inches in height, you may have compression fractures in your spine — a result of osteoporosis.
Fractured a bone. Fragility fractures occur when a bone becomes so fragile it breaks much more easily than expected. A strong cough or sneeze can sometimes cause fragility fractures.
Taken certain drugs. Long-term use of steroids, such as prednisone, interferes with the bone-rebuilding process and can lead to osteoporosis.
Received a transplant. If you have received an organ or bone marrow transplant, you are at a higher risk of osteoporosis because anti-rejection drugs also interfere with the bone-rebuilding process.
Lowered hormone levels. In addition to the decrease of hormones that occurs after menopause, a woman's estrogen level also may drop during certain cancer treatments. Some treatments for prostate cancer reduce testosterone levels in men. Lowered sex hormone levels weaken the bone.
Preparing for a bone density test
Avoid taking calcium supplements for at least 24 hours before your bone density test. Wear loose and comfortable clothing, and avoid wearing clothes with zippers, belts or buttons. Remove all metal objects from your pockets, such as keys, money clips and change.
During your exam, you will lie on a padded platform while a mechanical arm passes over your body. The amount of radiation you're exposed to is low — much less than the amount emitted during a chest X-ray. The test may take up to 30 minutes to complete.
Test results
A radiologist will analyze the images from your scan and report the findings to your primary care provider.