From prenatal care to geriatric care.
Need to make an appointment?
Family Medicine in Caledonia
When you or your child needs urgent care, a regular checkup or specialized treatment for a health condition, our Family Medicine team in Caledonia, Wisconsin, provides expert care every day to keep your whole family healthy. We provide care from birth through adulthood.
Our providers are specially trained in all aspects of family medicine and develop relationships with all family members to provide personalized care that will last a lifetime.
Services include:
Annual physical examinations
Anxiety screening and treatment
Behavioral health, including depression and stress
Care for minor illnesses and injuries
Care for the whole family
Chronic disease management
Department of Transportation (DOT) physicals
Dermatology needs, including acne, moles and warts
Family planning services
Immunizations
Infant and children care
Prenatal care
Preventive screenings, including breast, prostate and colon
School and sports physicals
Weight management
Workers' compensation injuries
Coordinating your care
We may consult and collaborate with specialists from other departments to determine and deliver the best, most appropriate treatment options for you. We also will connect you to care with other specialty services, such as laboratory, pharmacy, radiology and the mammography mobile unit.
Appointments are available in person or through video visits, which you can attend from the comfort of your home or other setting that works best with your schedule.
Check symptoms to reduce worry
Check Symptoms is a free online symptom evaluation tool available 24/7/365. It can give you peace of mind when symptoms start to worry you. Located within Mayo Clinic's patient portal, it allows you to answer a series of targeted questions to evaluate your symptoms and receive a care recommendation.
Vaccinations
Disease prevention is crucial to your health. Getting vaccinated is one of the best ways to maintain good health, and protect you and those you care about against infectious diseases. Vaccinations offer protection against serious diseases by stimulating the immune system to create antibodies against certain bacteria or viruses.
Get vaccine guidance from Mayo Clinic, including benefits, safety, side effects and what to know about recommended vaccines for babies, children, teens, adults and during pregnancy. For recommended vaccines based on age, refer to the adult or child and adolescent schedules.
Use your patient portal account to self-schedule a COVID-19 vaccination or call your local clinic.
Review the history of infectious disease outbreaks and vaccines timeline for information about major disease outbreaks, epidemics and pandemics, and the impact of vaccines and research.
Your care team
We offer a team-based approach to support you and your healthcare needs. This model of care is defined by high-quality, compassionate medical care delivered by a team of experts focused on getting you the right care at the right time to support your health and wellness. Care teams are your home base for getting the care you need in the most convenient, supportive ways possible.
Members of your care team
At the center of the care team is you, and your primary care team members will include a physician, nurse practitioners and/or physician assistants, nursing staff and care team support staff. Each care team member has a specific role in supporting and managing your health and care. Depending on the health situation, additional care team specialists may be included, such as a pharmacist, behavioral health specialist, patient educator, social worker or dietitian. Through collaborative teamwork, your care will be delegated to the most appropriate team member to provide the medical attention and care needed.
The benefit of having a care team
A care team improves your care in several ways. Rather than depending on just one clinician, you now have an entire team supporting you. When you need to see a specialist, your care team will connect you to the right person. When it's time for a preventive exam or health screening, your care team notifies you to keep you on track with recommended checkups and assessments. You also will have the ability to access care more quickly and efficiently because you now have a team of healthcare professionals prepared to meet your needs.
Seeing a nurse instead of your primary care clinician
Your appointment and the care team professional you see are tailored to address your specific health need and its complexity at that moment in time. This allows you access to the right healthcare professional for the right care at the right time. For example, some registered nurses are specifically trained to provide care related to recurring high blood pressure visits and Medicare annual wellness visits. If the nurse determines your condition has become more complicated, you will be referred to a nurse practitioner, physician assistant or physician for the appropriate care needed.
Accessing the care you need
Access to your care team is available in several ways for your convenience. You will be connected to the appropriate care team member and through the best care pathway to meet your individual needs. This may occur through a phone call, an in-person visit or through the patient portal.
Locations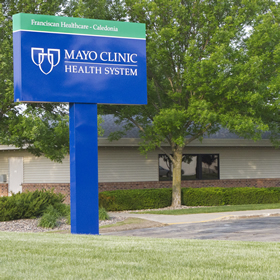 Clinic
701 N. Sprague St., Caledonia, MN 55921
Hours:

Mon:

8:00 AM - 7:00 PM

Tue-Thu:

8:00 AM - 5:00 PM

Fri:

8:00 AM - 12:00 PM
Providers