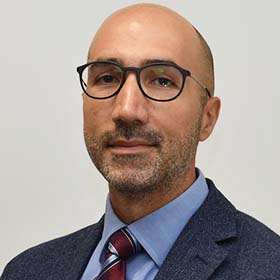 Appointment Information
Mankato, MN
Hospital and Clinic
1025 Marsh St., Mankato, MN 56001

Appointments
New Prague, MN
Hospital
301 Second St. NE, New Prague, MN 56071

Appointments
Provider's Bio
Every patient will have ample time to explain her condition and shed light on what matters to her most, as we navigate her treatment options. It is very imperative that the patient understands our partnership in managing her condition and that she identifies us as her support team so that she can focus on her treatment and recovery.
The most rewarding aspect of my time with the patient is when I get to educate them about their body and how disease affects its balance. It is always my goal to allow my patient to graduate from her care with enough knowledge that she would use to teach and advocate for herself and to other women in her community.
This way, not only would touch the patient's life, but also the communities' at large.
Outside of work, I do enjoy biking, swimming and camping. I am also a RC Plane Hobbyist and love grilling and cooking Lebanese cuisine.
Training & Credentials
Medical School
Beirut Arab University, Lebanon
Residencies
OB-GYN, Henry Ford Health System/Wayne State University, Michigan
OB-GYN, American University of Beirut Medical Center, Lebanon
Memberships
American Association of Gynecologic Laparoscopists
American College of Obstetrics and Gynecology (ACOG)
American Institute of Ultrasound in Medicine (AIUM)
American Medical Association
American UroGynecologic Society (AUGS)
International Society for the Study of Women's Sexual Health (ISSWSH)
Certifications
American Board of Obstetrics and Gynecology Designation for Focused Practice in Minimally Invasive Gynecologic Surgery
Fellow, American College of Obstetrics and Gynecology
Academic Appointment
Assistant professor of Medicine, Mayo Clinic Alix School of Medicine
Special Interests
Bartholin gland surgery
Community education
Endometriosis
Female sexual dysfunction, pain and vulvar disease
Hysterectomy
Minimally invasive surgery for treatment of gynecologic disorders:
Myomectomy (fibroid)
Obstetric and advanced gynecologic ultrasound 3D
Ovarian cyst removal
Research
Surgical simulation training
Vulvar disease (e.g. Lichen Sclerosus, Lichen Planus, vaginal pain)
Women's health