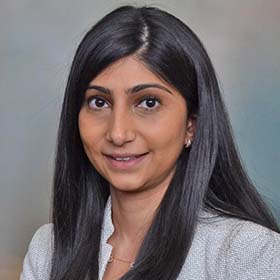 Locations & Services
Eau Claire, WI
Clairemont Campus Clinic
733 W. Clairemont Ave., Eau Claire, WI 54701
My services at this location:
Provider's Bio
We strive to provide high-quality care through my service and our excellent team. I help my patients and my pediatric patients' parents better understand the eye condition and options for treatment. Together we form a management plan for improved eye alignment, vision and rehabilitation. For more complex conditions, I may engage other specialists to assist in the various aspects of care. I continue to find better and new ways to help our patients through research and education.
In my spare hours, I enjoy spending time with my family, especially my delightful twin nephews. I like to hike, travel, play board games and paint with watercolors.
Training & Credentials
Medical School
GS Medical College & King Edward Memorial Hospital, Mumbai, India
Internship
GS Medical College and King Edward Memorial Hospital, Mumbai, India
Residency
Ophthalmology, TN Medical College & BYL Nair Hospital, Mumbai, India
Fellowships
Pediatric Ophthalmology and Strabismus, Emory University, Atlanta, GA
Pediatric Ophthalmology and Strabismus, Mayo Clinic, Rochester, MN
Neuro-ophthalmology, Mayo Clinic, Rochester, MN
Memberships
American Academy of Ophthalmology
International Council of Ophthalmology
Academic Appointment
Assistant Professor of Ophthalmology, Mayo Clinic College of Medicine, Minnesota
Special Interests
Research and education in:
Childhood eye misalignment
Lazy eye
Double vision
Optic nerve disorders