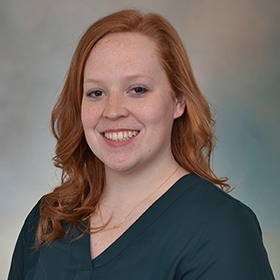 Learn more about me:
Appointment Information
Eau Claire, WI
Clairemont Campus Clinic
733 W. Clairemont Ave., Eau Claire, WI 54701

Appointments
Provider's Bio
I specialize in genetic counseling for cancer and cardiac genetics. I see individuals with a personal or family history of cancer or certain cardiac conditions (i.e., high cholesterol, cardiomyopathy, aortic aneurysm).
The main goal I have as I enter every patient appointment is patient empowerment. My role is to educate you on the option of genetic testing for you and your family. We will discuss the benefits, limitations and risks of genetic testing. I enjoy assisting in the decision-making process as you determine whether genetic testing is something you will find beneficial to you. I appreciate spending time with you and hearing your personal and family stories.This helps me to gather an idea of your goals and how genetic testing could aid in your health care.
I joined Clinical Genomics in Eau Claire in June of 2020. I have enjoyed seeing the department grow through all health system sites. I appreciate the opportunity to offer genetic counseling services to individuals via video visits to allow patients to access care closer to home.
I am originally from the south metro of Minnesota. My husband and I have lived in Eau Claire since May of 2020 and have enjoyed exploring all the awesome food, nature and Wisconsin culture the city has to offer. In my free time, I enjoy baking new treats, traveling to new places, and in the fall, continuing to humble myself as a natural-born Vikings fan.
Training & Credentials
Education
Bachelor's degree, Biology and Psychology, North Dakota State University
Master's degree, Genetic Counseling, University of Minnesota-Twin Cities
Internship
Genetic Counseling, Mayo Clinic School of Health Sciences
Certification
Genetic Counseling, American Board of Genetic Counseling
Memberships
National Society of Genetic Counselors
Wisconsin Genetic Counselors Association
Academic Appointment
Instructor in Medical Genetics, Mayo Clinic College of Medicine and Science
Special Interests
Cardiovascular genetics (familial hypercholesterolemia [high cholesterol and heart disease], dilated cardiomyopathy, hypertrophic cardiomyopathy, aortic aneurysm)
Genetic testing (diagnostic testing, presymptomatic and predictive testing)
Oncology (cancer) genetics (personal and family history of breast, ovarian, uterine, colon, prostate, melanoma, pancreatic cancer)
Research & Publications
Find More Providers