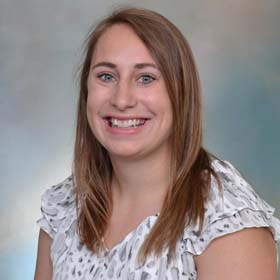 Appointment Information
Mondovi, WI
Clinic
700 Buffalo St., Mondovi, WI 54755

Appointments
Osseo, WI
Hospital and Clinic
13025 Eighth St., Osseo, WI 54758

Appointments
Provider's Bio
I meet with patients that have a primary care provider on our clinic care team for an individual review of medications. We will review your prescription, nonprescription and herbal medicines to ensure you are on the right medicines, they are working as expected, and are as safe and easy to take as possible. I work with your provider and others on the care team to manage chronic conditions that are treated with medications, such as diabetes, blood pressure, cholesterol, asthma, COPD, heart failure or depression.
I enjoy partnering with my patients to optimize medications to improve their quality of life.
In my free time, I enjoy walking my dog, spending time with family and friends, and traveling to difference places.
Training & Credentials
Education
Doctorate of Pharmacy, University of Wisconsin-Madison School of Pharmacy
Residency
Ambulatory Care Pharmacy, Auburn University