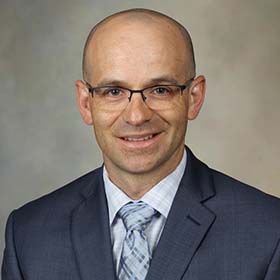 Learn more about me:
Appointment Information
La Crosse, WI
Clinic
800 West Ave. S., La Crosse, WI 54601

Appointments
Onalaska, WI
Clinic
191 Theater Road, Onalaska, WI 54650

Appointments
Provider's Bio
I believe my role as an ear, nose and throat (ENT) surgeon is to listen to and educate my patients regarding their diagnosis, so they are able make decisions that are right for them. I tend to be direct, with the goal of ensuring that my patients understand their options and obtain answers to all their questions. Our team strives to ensure our patients have an exceptional experience and feel respected while in our care.
I'm a husband, father of four, brother, doctor, avid DIYer and tool enthusiast. I've built and remodeled houses, shingled countless roofs, raised pigs and thrown many bales. I enjoy learning new skills, such as welding, wood turning and building jungle gyms. A day with my family is always a great day.
Training & Credentials
Education
University of Minnesota Medical School
Residency
University of Minnesota Medical School
Certification
Head and Neck Surgery, American Board of Otolaryngology
Membership
Head and Neck Surgery, American Board of Otolaryngology
Academic Appointment
Instructor in Otolaryngology, Mayo Clinic College of Medicine and Science
Special Interests
Chronic ear disease
Chronic sinusitis
Ear tubes/tympanostomy tubes
Endoscopic dacryocystorhinostomy (tear duct surgery)
Head and neck cancer (lip, mouth, tonsil, throat, voice)
Hearing loss
Nasal polyps
Nose and sinus disease
Osteosclerosis
Parathyroid adenomas
Parotid disease
Salivary gland/parotid
Thyroid nodules
Thyroid/parathyroid disease
Tonsillectomy and adenoidectomy
Find More Providers