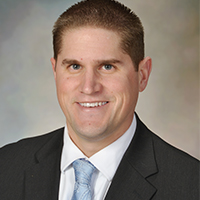 Appointment Information
Fairmont, MN
Hospital and Clinic
800 Medical Center Drive, Fairmont, MN 56031

Appointments
Mankato, MN
Hospital and Clinic
1025 Marsh St., Mankato, MN 56001

Appointments
New Prague, MN
Hospital
301 Second St. NE, New Prague, MN 56071

Appointments
Provider's Bio
I bring a lot of energy and humility to the bedside. I find joy in making the patient smile or laugh when appropriate, finding a connection and defining a common purpose, and validating that we care and value their trust in us. I believe that "a union of forces" is needed to ensure that "the needs of the patient" are respected and prioritized.
I work to improve the Emergency Department flow processes, patient experience and employee wellness.
I believe that there is goodness and joy in all of us. I appreciate the value of time and the precious nature of life.
Training & Credentials
Medical School
Ross University School of Medicine, New Jersey
Residency
Emergency Medicine, Mayo Clinic College of Medicine and Science, Rochester, Minnesota
Find More Providers