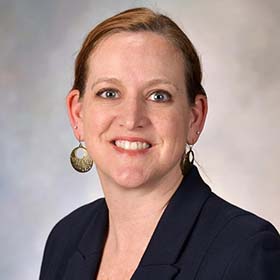 Appointment Information
Fairmont, MN
Hospital and Clinic
800 Medical Center Drive, Fairmont, MN 56031

Appointments
Mankato, MN
Hospital and Clinic
1025 Marsh St., Mankato, MN 56001

Appointments
Provider's Bio
I provide dialysis in Fairmont (same contact information as Fairmont Nephrology) and Mankato (same contact information as Mankato Nephrology).
Patients are an integral part of the care team. I encourage you to be involved in your care, participate in discussions and follow through with recommended evaluations and treatments discussed in the office visit. I welcome questions and provide detailed explanations in writing to support the discussion.
I have over 20 years of experience — beginning with primary care and now specializing in nephrology (kidney care). This gives me a perspective across the continuum of patient care and a greater understanding of the challenges faced and resources to overcome these challenges.
Training & Credentials
Education
University of South Dakota
University of Nebraska-Omaha
Certification
National Commission on Certification of Physician Assistants
Memberships
American Academy of Nephrology Physician Assistants
American Academy of Physician Assistants
Minnesota Academy of Physician Assistants
National Kidney Foundation
Academic Appointments
Instructor of Medicine, Mayo Clinic College of Medicine and Science
Special Interests
Educating patients and their families about chronic kidney disease
Instructing and precepting medical professionals
Legislative, patient advocacy efforts and advancement of the physician assistant profession
Find More Providers