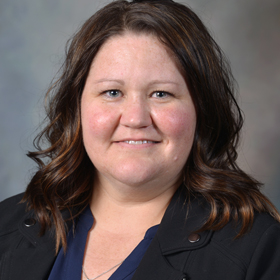 Learn more about me:
Amy Petersen, APRN, CNM
Birthing Centers, Midwifery, Obstetrics & Gynecology (OB-GYN), Prenatal Care
Appointment Information
Mankato, MN
Hospital and Clinic
1025 Marsh St., Mankato, MN 56001

Appointments
Provider's Bio
As my patient, you will always feel heard and cared for. I pride myself in connecting with patients, whether it is one time or on a regular basis. If I don't have the answers, I will refer you to one of my amazing colleagues who I trust will give you excellent care.
I enjoy spending time with my family, volunteering when time permits, horseback riding, kayaking, soccer, outdoor recreation and photography. I love to travel when I can, and have been all over the United States. I've also been to Mexico, Africa, Canada and Paris.
I love midwifery and the immense joy it brings to my life. There is no better career out there! I love working for Mayo Clinic and the excellent colleagues I get to rub shoulders with.
Training & Credentials
Education
Bachelor's degree, Nursing, Winona State University, Minnesota
Doctoral degree, Nursing - Women's Health & Midwifery, University of Utah
Certification
Certified nursing midwife
Special Interests
Pregnancy and delivery — I absolutely love taking care of women during their teenage years through the reproductive years. Women are amazing and it is an honor to watch them grow through the years. My heart and soul is helping women become mothers while I take care of them during their pregnancy and delivery. I am consistently amazed by the strength women have.
Teen health — I love working with teens and their families in education regarding their overall health, sexual health and safety, and pregnancy when those occur. No matter what age we become mothers, we need to be supported and I am honored to help young moms prepare for the journey. I take great pride in working with teens and listening to their concerns with their health and helping them be the best they can be.
Women's health — I enjoy working with women in all aspects of their care. It is an honor and a pleasure helping women understand their body, listening to concerns and seeing their lives improve as we work together to find solutions.
Find More Providers