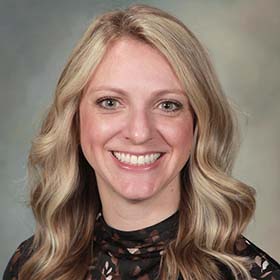 Locations & Services
Mankato, MN
Hospital and Clinic
1025 Marsh St., Mankato, MN 56001
My services at this location:
Eastridge Clinic
101 Martin Luther King Jr. Drive, Mankato, MN 56001
My services at this location:
North Mankato, MN
Northridge Clinic
1695 Lor Ray Drive, North Mankato, MN 56003
My services at this location:
Provider's Bio
My desire is to help my patients reach the greatest level of health possible. My care includes addressing women's gynecological and urological needs throughout all stages and years of their life. I focus on how each health care concern can affect the individual as a whole — physically and emotionally. I am passionate about patient education, shared decision making, and collaborative care with other colleagues, to ensure my patient's concerns and needs are met.
I was born and raised in Minnesota. I am an outdoor enthusiast and enjoy the lakes, camping, hiking, exploring and downhill skiing. I am married with three children, and love trying to keep up with them — they keep me young at heart. My husband and I love to cook and I am always interested in trying new foods!
Training & Credentials
Education
Metropolitan State University, Minnesota
Residency
Nurse Practitioner Residency Program,Mayo Clinic College of Medicine & Science, Minnesota
Certification
Family Nurse Practitioner, American Academy of Nurse Practitioners
Membership
Minnesota Nurses Association
Special Interests
Family planning
Obstetrical care
Overactive bladder
Preventive health care for women
Preventive medicine
Screening, diagnosis and treatment of sexually transmitted infections
Urinary incontinence