Need to make an appointment?
Speech-Language Therapy
Speech-Language Therapy - Menomonie, Wisconsin
Do you have communication, swallowing or voice difficulties? Speech-language pathologists assess, diagnose, treat and help prevent communication and swallowing disorders. Speech-language therapy will help patients develop and maintain their ability to speak more clearly, understand and express thoughts and feelings, and eat and swallow safely.
Speech-language therapy can help patients:
Coordinate and strengthen the muscles used to swallow.
Increase their ability to read and write correctly.
Learn alternate communication methods, such as picture communication, for those with little or no speech capability.
Learn ways to cope with communication disorders.
Improve their voice and breathing pattern.
How it works
Your health care team will refer you for speech therapy, if needed. During your initial visit, you will discuss your goals for therapy, and the speech-language pathologist will evaluate your speech-language function.
After the evaluation, your speech-language pathologist will diagnose the concern and develop an individualized treatment plan with you. Your therapy team will provide education, treatment, intervention, management and counseling for you and your family. It is important your family and caregivers are involved to ensure improvement continues at home.
Please check with your insurance plan to see if speech therapy services are covered. Availability of specific care and treatment may vary by location.
Care is available for a variety of communication disorders
Speech-language pathologists can help with:
Articulation problems
Augmentative and alternative communication systems
Cleft palate
Cognition
Communication problems associated with autism, cerebral palsy, emotional concerns, head injury, hearing loss and pervasive developmental disorders
Delayed/disordered speech and language
Executive function, such as difficulty planning and carrying out tasks
Laryngitis or hoarse voice
Laryngectomy
Oral, oropharyngeal (mouth and pharynx) or nasopharyngeal (nose or nasal cavity) cancer complications
Problem-solving and reasoning
Voice disorders
Services and treatments
Speech therapy offers these services and treatments:
Cancer rehabilitation
Electric stimulation therapy
Fiber-optic endoscopic swallowing evaluation
Evidence-based therapy for neurological conditions
Neuromotor clinic
Parkinson's disease therapy to improve balance, daily activities and self-care, mobility, voice communication and quality of life
Swallowing difficulties and video swallowing studies
Videostroboscopy
Locations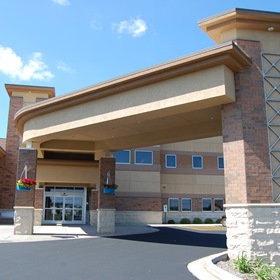 Orthopedic & Rehabilitation Center
2407 Stout Road, Menomonie, WI 54751
Hours:

Open weekdays, call us to schedule an appointment.
Providers