Better outcomes for joint replacement.
Need to make an appointment?
Hip | Knee | Shoulder Replacement
Hip Replacement Surgery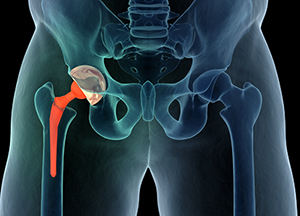 During hip replacement surgery, a surgeon removes the damaged sections of your hip joint and replaces them with parts usually constructed of metal and very hard plastic. This artificial joint (prosthesis) helps reduce pain and improve function.
Review the information below if you're interested in learning more about hip replacements.
Types of Hip Surgery
Hip Surgery Overview Video

Anterior surgical approach

The anterior (front) approach to total hip replacement involves the surgeon entering through the front of the upper thigh. Surgeons work between muscles, eliminating the need to detach muscles from the bone. Some in the field refer to this as a "muscle-sparing approach." In addition, the anterior approach is performed with the patient supine (lying on his or her back), which facilitates use of X-ray guidance and increases placement accuracy of prosthetic hip components.

Typically, patients who undergo this procedure can expect slightly faster recovery, gait improvements and less need for walking aids. However, every patient is different, and recovery also depends on additional factors, such as body type and how the patient lives his or her life.

Patients who are active, in good physical shape and younger are often the best candidates for an anterior approach hip replacement.

Anterolateral (Watson-Jones)

The patient is typically lying on his or her side, and the hip is approached on the side and then around the front (anterior) portion of the hip. The hip is opened between the gluteus medius (muscle on the outside of the pelvis) and tensor fascia latae muscles (small muscle just in front of the hip joint). In most cases, at least a small portion of the gluteus medius muscle needs to be released to facilitate adequate exposure of the hip joint for hip replacement.

Posterior surgical approach

The posterior (back), or traditional, approach involves the surgeon entering just behind the side of the hip bone. It has been the most commonly used approach to hip replacement for the last few decades and thus one that most surgeons are familiar with. Additionally, it can easily be extended to provide greater exposure of the pelvic bone and femur (thigh bone). Because of this, the posterior approach is typically recommended over the anterior approach for revision surgeries.

The patient again is side-lying, and the hip is approached through the side. The front portion of the hip abductor muscles (gluteus medius and gluteus minimus) are then removed from the greater trochanter to open up the hip joint. It's considered an extensile approach that permits broader access to the pelvis bone around the hip socket and the femur (thigh bone).

This approach classically has the lowest risk of dislocation (ball coming out of the socket) but does carry the risk of a persistent limp from weakness of the hip abductor muscles.