Breathe easy with expert pediatric ENT care.
Need to make an appointment?
Otolaryngology (ENT)/Head and Neck Surgery
Deviated Septum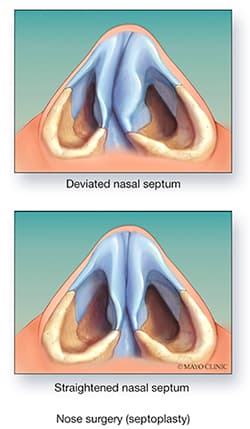 A deviated septum occurs when the thin wall (nasal septum) between your nasal passages is displaced to one side. In many people, the nasal septum is off-center — or deviated — making one nasal passage smaller.
When a deviated septum is severe, it can block one side of your nose and reduce airflow, causing difficulty breathing. The additional exposure of a deviated septum to the drying effect of airflow through the nose may sometimes contribute to crusting or bleeding in certain people.
A nasal blockage or congestion can occur from a deviated nasal septum, from swelling of the tissues lining the nose or from both.
Most deviated septums result in no symptoms, and you may not even know you have a deviated septum. Some septal deformities, however, may cause the following signs and symptoms:
Obstruction of one or both nostrils. This blockage can make it difficult to breathe through the nostril or nostrils. You may notice this more when you have a cold or allergies that can cause your nasal passages to swell and narrow.
Nosebleeds. The surface of your nasal septum may become dry, increasing your risk of nosebleeds.
Facial pain. There is some debate about the possible nasal causes of facial pain. A possible cause of one-sided facial pain could be a severe deviated septum in which surfaces within the nose touch and cause pressure.
Noisy breathing during sleep. A deviated septum or swelling of the intranasal tissues can be one of the many reasons for noisy breathing during sleep.
Awareness of the nasal cycle. It is normal for the nose to alternate being obstructed on one side, then change to being obstructed on the other. This is called the nasal cycle. The nasal cycle is normal but being aware of the nasal cycle isn't typical and can indicate nasal obstruction.
Preference for sleeping on a particular side. Some people may prefer to sleep on a particular side to optimize breathing through the nose at night if one nasal passage is narrowed.
Treatment
Initial treatment of a deviated septum may be directed at managing your symptoms. Our providers may prescribe decongestants, antihistamines, or nasal steroid sprays.
Septoplasty
Septoplasty is the usual way to repair a deviated septum. During septoplasty, your nasal septum is straightened and repositioned in the center of your nose. This may require a surgeon to remove and reposition parts of the septal cartilage and bone. If you experience symptoms — such as difficulty breathing through your nose — that affect your quality of life, you may consider surgery to fix a deviated septum.