Breathe easy with expert pediatric ENT care.
Need to make an appointment?
Hospital and Clinic

Hospital and Clinic
Otolaryngology (ENT)/Head and Neck Surgery
Ear Infection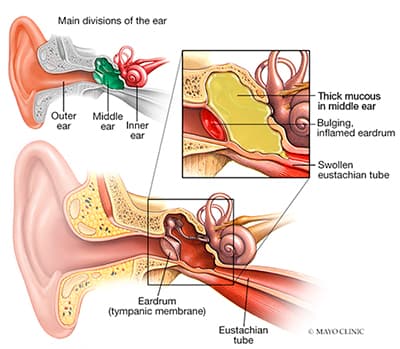 An ear infection (otitis media) is an infection of the middle ear, the air-filled space behind the eardrum that contains the tiny vibrating bones of the ear. Children are more likely than adults to get ear infections. The symptoms of ear infections can include:
Children
Drainage of fluid from the ear
Ear pain, especially when lying down
Fever of 100 F or higher
Fussiness
Headache
Loss of appetite
Loss of balance
Trouble hearing or responding to sounds
Tugging or pulling at an ear
Adults
Drainage from the ear
Ear pain
Trouble hearing
Causes
An ear infection is caused by bacteria or virus affecting the middle ear. This infection often results from another illness — cold, flu or allergy — that causes congestion and swelling of the nasal passages, throat and eustachian tubes. The eustachian tube runs from each middle ear to high in the back of the throat (nasopharynx). Swelling can cause eustachian tube dysfunction or blockage causing fluid to build up in the middle ear. This fluid can become infected and cause an ear infection.
In children, the eustachian tubes are narrower and more horizontal, which makes them more difficult to drain and more likely to get clogged.
Treatment
Symptoms of ear infections usually improve within the first couple of days, and most infections clear up on their own within one to two weeks without treatment. Some of the following methods are effective in relieving symptoms:
Apply a warm cloth to the affected ear.
Take over-the-counter pain medication such as ibuprofen (Advil) or acetaminophen (Tylenol).
After initial monitoring, a doctor may recommend antibiotic treatment. Even after symptoms have improved, be sure to use the antibiotic as directed. Failing to take all medication can lead to a recurring infection and resistance of bacteria to the antibiotic medications.
Ear tubes
If a child has persistent ear infections or fits certain criteria, ear tubes may be recommended. Ear tubes are tiny, hollow cylinders, usually made of plastic or metal, that are surgically inserted into the eardrum. An ear tube creates an airway that ventilates the middle ear and prevents the accumulation of fluids behind the eardrum.
Ear tubes are often recommended for children who have persistent fluid buildup behind the eardrum, especially if the condition causes hearing loss and affects speech development. Ear tubes may also be recommended if your child gets frequent ear infections.
Most ear tubes fall out within six to twelve months, and the holes heal shut on their own. Some tubes need to be removed, and some holes may need to be closed surgically.
Children who have frequent ear infections or who have persistent fluid in the middle ear will need to be monitored closely. Talk to one of our ENT specialists today to discuss the best monitoring and treatment plan for your child.