Need to make an appointment?
Joint Replacement Surgery
Ankle Replacement Surgery in Mankato, Minnesota
Ankle replacement surgery at Mayo Clinic Health System in Mankato is a complex procedure that is considered only after attempting other treatment options. Speak with your health care professional to determine if you are a good candidate for this surgery.
Nonsurgical options for ankle pain
Treatment for arthritis in the ankles often begins with pain medications, such as anti-inflammatory medications, as well as a brace or other support, and physical therapy to strengthen the muscles around the ankle joint. Additional treatment options, such as cortisone injections or lubrication injections, may offer relief.
The following graphic shows where ankle arthritis occurs: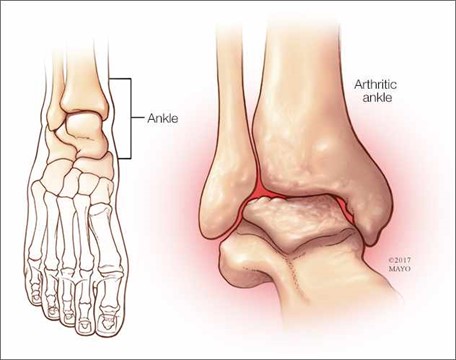 Surgical options for ankle pain
If nonsurgical options do not reduce your ankle pain, surgery may be appropriate.
Two procedures frequently recommended for ankle pain are:
Ankle fusion. Ankle fusion is more common than ankle replacement because it typically lasts longer and does not require as many long-term activity restrictions. Fusion usually is recommended for younger patients with more active lifestyles.
Ankle replacement. Ankle replacement is recommended for patients older than 60 who do not participate in high-impact activities, such as running, and who are not overweight. Surgery may not be a good option if you have weakened ankle ligaments, misaligned ankle bones, or nerve damage from diabetes or other medical conditions.
Recovering from ankle replacement surgery
During ankle replacement surgery, the ends of the damaged bones are removed and replaced with a joint made of plastic and metal. This artificial joint helps the ankle retain more movement, so arthritis is less likely to develop in nearby joints.
Following your replacement surgery, your ankle will be in a splint, and you will need to use crutches. You will not be able to put any weight on your ankle for several weeks.
Eventually, most patients will begin physical therapy and slowly move to weight-bearing activities. Typically, patients recovering from ankle replacement will need some type of splint or brace on the ankle for at least three months.
It may take a year after ankle replacement surgery to resume normal activities.