Need to make an appointment?
Mammography in Holmen
Screening mammography in Holmen, Wisconsin, is used to detect breast changes in women who have no signs or symptoms, or observable breast abnormalities. The goal is to detect cancer before any clinical signs are noticeable. This usually requires at least two images of the breast from different angles. The American Cancer Society recommends yearly mammograms starting at age 40 and continuing for as long as a woman is in good health. Women should report any breast change promptly to their health care provider.
Schedule your mammogram online with Patient Online Services.
New to Mayo Clinic Health System? Schedule with our Online Screening Form.*
*Have your insurance information available, and plan for five to 10 minutes to complete.
Mammography screenings are provided by two self-contained mobile units. The units have the most current technology available to provide patients with a rapid, highly precise diagnosis. Also, because everything is digital, providers can review the results from any location and can quickly compare past results with current tests.
Locations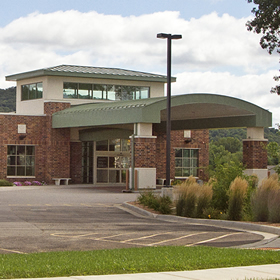 Clinic
1303 Main St. S., Holmen, WI 54636-9337
Hours:

Mon:

7:00 AM - 5:00 PM

Tue-Wed:

7:00 AM - 7:00 PM

Thu-Fri:

7:00 AM - 5:00 PM