Need to make an appointment?
Same Day Clinic
Mayo Clinic Health System in Fairmont has transitioned its Urgent Care service into a Same Day Clinic.
Call us to schedule a Same Day Clinic appointment. Walk-ins are accepted, patients with scheduled appointments are seen first.
---
The Same Day Clinic provides the same treatment for conditions seen in the former Urgent Care, including:
Colds and flu
Diarrhea
Ear pain
Fevers, coughs and sore throats
Minor allergic reactions
Minor burns
Scrapes and cuts
Skin conditions, including rashes, poison ivy and insect bites
Sprains, strains and simple fractures
Urinary tract infections
Vomiting
These patients and conditions cannot be treated in Same Day Clinic:
Patients younger than three months old
Abdominal pain in patients age 70+
Abdominal pain less than three hours before clinic closure
Active nosebleed
Catheter follow-up
Chemical burns
Chest pain
Confusion
Depression
Fainting or blacking out
Foreign body lodged in throat
Foreign body removal from eye
Heavy bleeding
Medication refills
Motor vehicle accident injuries within less than 24 hours
Neck pain
PEG tubes
Personal issues
Pregnancy related issues
Sexual assault
Stroke
Suicidal thoughts
Weakness and dizziness in patients age 70+
Workers' compensation follow-up or return to work
In the event of an emergency, call 911 or seek care at the nearest Emergency Department.
Locations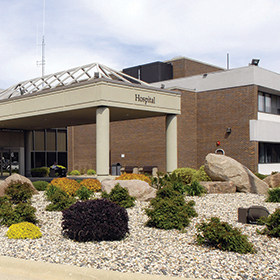 Hospital and Clinic
800 Medical Center Drive, Fairmont, MN 56031
Hours:

Mon-Fri:

10:00 AM - 7:00 PM

Sat-Sun:

8:00 AM - 5:00 PM