Mayo Clinic Health System Care
in Decorah
Need to make an appointment?
Surgery in Decorah
Whether planned or unexpected, having surgery is a major life event. We know this and make every effort to keep you as comfortable as possible, focusing on you as an individual.
Our skilled surgeons and staff work as a coordinated, compassionate team to treat various illnesses and health conditions, ranging from simple to complex. The team uses a multidisciplinary approach to diagnose and provide timely surgical intervention.
Find out more about our surgical services:
Surgical procedures, conditions and consultations
We offer a wide range of surgical procedures and treatments, including laparoscopic and robotic surgery, for a multitude of conditions to help improve your daily life:
Breast
Cysts, lumps, cancer, nipple discharge
Lumpectomy
Mastectomy
Prophylactic mastectomy
Sentinel lymph node biopsy
Skin and nipple-sparing breast removal
Stereotactic breast biopsy
Colon and large/small intestine
Appendicitis
Colonoscopy
Colorectal polyps and colon cancer
Diverticulitis
Endoscopy
Intestinal obstruction
Low anterior resection and abdominal perineal resection for rectal cancer
Small bowel cancer
Endocrine
Adrenal nodules
Parathyroid removal
Thyroid cancers
Thyroid nodules and cysts
Gallbladder
Gallbladder dysfunction and removal
Gallstones
Hernias
Inguinal hernia repair
Hiatal hernia repair
Umbilical hernia repair
Ventral hernia repair
Pancreas
Stomach
Endoscopy
Gastrectomy for stomach cancer
Gastric bypass
Hiatal hernia
Ulcers
Skin
Lipoma
Melanoma
Squamous and basal cell carcinoma
Vascular
Abdominal aortic aneurysm
Carotid artery disease
Endovascular aortic repair (EVAR)
Peripheral vascular disease (PAD)
Ultrasound for PAD
Varicose veins
Vascular bypass (surgery to legs)
Venous insufficiency
Venous ulcers
Diagnosis and treatments
Robotic surgery is just one of many advanced technologies available through Surgery. Robotic surgery is available in Eau Claire, Wis.; La Crosse, Wis.; and Mankato, Minn., as an alternative to traditional open surgery and conventional laparoscopy, putting the surgeon's hands at the controls of an advanced robotic platform. Robotic surgery helps surgeons perform even the most complex and delicate procedures through very small incisions with superior precision.
Surgeons conduct robotic surgery using a robotic system, which includes a camera arm and several interactive mechanical arms with joints that work like a human's wrist.
The surgeon uses two hand-and-finger devices from the remote console to precisely direct the mechanical arms at the operating table. He or she leads a trained surgical team during the surgery. Surgeons have more flexibility, control and maneuverability using the surgical instruments in robotic surgery than in traditional minimally invasive surgery. Using robotic surgery, surgeons can perform delicate and complex procedures that may have been difficult or impossible with other techniques.
Benefits of robotic surgery include:
Less pain
Less blood loss
Less scarring
Shorter recovery time
Faster return to normal activities
Better clinical outcomes (in many cases)
Specialty surgical services
To maximize care, our providers, many fellowship-trained, may refer you to other specialists if needed. We have direct access to local providers and specialists at Mayo Clinic.
Post-operative care
After surgery, your care team will monitor you closely and decide when you are ready to be transported to your hospital or day surgery recovery room.
They will monitor you as the anesthesia wears off. During that time, you may:
Notice that noises sound louder than usual.
Feel drowsy and remember little or nothing about the surgery.
Have blurry vision, a dry mouth, mild nausea or chills.
Have a mild sore throat if a breathing tube was placed in your windpipe during surgery.
Have an IV in your arm or hand, a catheter in your bladder and/or a drain near the incision.
Feel burning or pain in the area of your surgery.
They will monitor your pain
The care team will ask you to rate your pain on a scale of zero to 10. Using a pain scale can help to communicate your level of pain.
Remember that all pain is real, and there are many ways to control pain. Ask for medication to control pain when you need it. Don't try to "tough it out," as this can make you feel worse.
If you go home on the day of your surgery
After your anesthesia wears off, you will be moved to the day surgery area for a few hours. Family and friends may join you. When you feel alert, your nurse can help you get dressed. When ready, your care team will take you by wheelchair to meet your driver and help you into the vehicle. It is important to have a responsible adult drive you home.
If you are staying in the hospital after your surgery
Your care team will bring you to your hospital room on a bed or wheelchair. Hospital nurses will check on you often. Tell them if you have pain, don't feel well or need to use the restroom. Do not try to get out of bed alone. A nurse will help you when you first try to walk. You may not be able to drink or eat right away. Your nurse will help you order room service when you are ready to eat and drink again.
Your role in recovery
You should become active as soon as directed by your healthcare provider while giving yourself time to heal and rest when you feel tired. To speed your recovery, you will be asked to:
Cough and breathe deeply to prevent pneumonia.
Do mild physical activity with the help of a team member to help your circulation and body functions return to normal.
Manage your pain.
Referrals
A referral from your primary care provider is required for elective surgeries.
FAQ
What should I expect during my first appointment, and what should I bring?
At your first Surgery appointment, you'll meet with a provider who will conduct a full history and evaluation with you. Imaging, such as an X-ray, CT scan or MRI, may be needed to support the diagnosis or determine next steps in your treatment plan. Depending on your needs, they may review presurgical recommendations.
Appointment times vary depending on your symptoms or condition. Most initial appointments take 30–60 minutes.
For your first appointment, bring any imaging or medical records from non-Mayo Clinic Health System facilities. Complete a medical records release form to authorize the transfer of health records from another healthcare facility to us. Visit our Medical Record Forms page for this form and other forms in multiple languages.
How do I prepare for my surgery?
Whether you need a minor, same-day procedure or a complex operation that requires you to stay in the hospital overnight, you likely have many thoughts and questions running through your head. You may even feel anxious, confused or scared.
While these emotions are normal and expected, there are things you can do to feel more comfortable and calm your nerves. Learn what you need to know about preparing for surgery.
What are my payment options and do you offer financial assistance?
Visit the billing page of your preferred location for information on insurance, billing and payments.
We serve patients in difficult financial circumstances and offer financial assistance to those who have an established need to receive medically necessary services. Learn more about financial assistance options.
Can you provide a second opinion?
Yes — call the appointment number at your preferred surgery location to schedule an appointment. See What should I bring to my first appointment for tips on how to prepare.
What follow-up care do you provide after treatment?
Before surgery, your healthcare team will assess your at-home and recovery needs. We partner with physical therapists, occupational therapists and social workers to make recommendations for a successful discharge and safe recovery.
Do you have an after-hours number in case of emergency?
Always call 911 in case of emergency. For additional after-hours help, visit our Nurse Line page, or review our convenient care options.
Explore locations or providers near you for details on expert surgical care:
Locations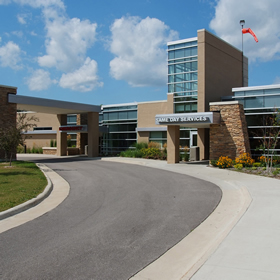 Hospital and Clinic
901 Montgomery St., Decorah, IA 52101
Hours:

Mon-Fri:

9:00 AM - 4:00 PM
Providers