Need to make an appointment?
Psychiatry & Psychology
Psychiatry & Psychology
Psychiatry and psychology services at Mayo Clinic Health System in Arcadia can help lead you in the right direction. You may know your problems, but you might not know your needs — that's our job. Our staff of caring professionals will work with you to develop a care plan specifically tailored to meet your needs.
We respect your challenges and situations. Call us and let us show you how we can help.
We use the strength of multidisciplinary teams combined with leading research to ensure you get the best care possible:
Psychologists and clinical therapists provide evidence-based treatment through individual, family and group therapy.
Comprehensive mental health assessments and treatments are coordinated by psychiatrists, psychologists and clinical therapists working with an experienced nursing team to build a personalized treatment plan to meet your needs.
Our psychiatry team offers comprehensive medication management and ongoing psychiatric care for a wide variety of mental illnesses in our outpatient practice.
Counselors and clinical therapists provide services related to:
Addiction counseling
Dialectical behavior therapy
Individual, marriage and family counseling
Mental health counseling
Neuropsychological testing
Outpatient psychiatry and psychology services also are available in Holmen, La Crosse, Onalaska, Prairie du Chien, Sparta and Tomah.
On-site video visits
Appointments for Psychiatry and Psychology are offered via on-site video visits, which reduce the need to travel far and enable patients to receive care closer to home.
For an on-site video visit, patients arrive to their home clinic and a nurse connects them with a specialist by video. Our innovative technology uses a Bluetooth stethoscope, a USB otoscope and high definition cameras that can move and zoom in for a high-quality physical exams and personal conversation with the specialist. If you are interested in on-site video visits, speak with your provider about this option for your treatment.
Video appointments are currently offered at select locations in Wisconsin and Minnesota. Learn more about on-site video appointments.
Locations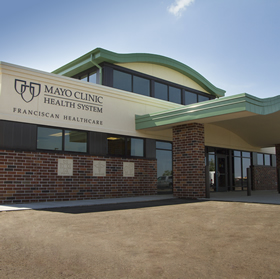 Clinic
895 S. Dettloff Drive, Arcadia, WI 54612
Hours:

Mon-Fri:

8:00 AM - 5:00 PM
Related Upcoming Classes and Events View More
Empowering Families to Strengthen Youth Mental Health