Need to make an appointment?
Otorhinolaryngology (Ear, Nose and Throat)
Otorhinolaryngology (Ear, Nose and Throat)
Our otorhinolaryngologists, also known as ENT (ear, nose and throat) specialists, provide consultation, diagnosis and treatment of ear, nose, head and neck disorders. These conditions directly affect hearing, speech, breathing, balance, taste and smell — functions essential to a good quality of life.
The most common conditions we treat include head and neck tumors, thyroid and sinus problems, sleep apnea, tonsillitis, chronic ear infections and delayed speech development due to hearing problems.
Our board-certified specialists provide reliable outcomes that often are life-changing. The ENT surgical suites are equipped with the latest equipment, and our ENT specialists are highly regarded for ear and sinus surgeries, including precision image-guided sinus surgery. One of the procedures the team has perfected uses a tiny titanium prosthetic implant to transmit sound when the bone in the inner ear is faulty. Restoring hearing within 10 dB of normal is considered a good outcome. We are able to restore it within 5 dB. We often receive referrals from providers who do not have this expertise within their own practices or seek assistance with rare or difficult-to-diagnose conditions.
Diagnosis is key, which begins with listening. Many patients come to us after their problem was not correctly identified and resolved or after years of living with symptoms that we were able to correct with same-day surgery.
Our ENT surgeons perform many types of facial plastic and reconstructive surgeries, such as scar removal, reconstructions for melanoma, correction of protruding ears, cleft lip and palate, droopy eyelids, brows and facial bone trauma.
This highly integrated practice connects La Crosse and Rochester with outreach care in Onalaska, Sparta, Tomah, and Prairie du Chien.
Referrals
Primary care physicians may refer patients directly to our ENT physicians, advanced practice nurse practitioner or certified nurse specialist.
Diagnostic services and conditions treated include:
Allergic rhinitis (runny nose)
Audiology (tinnitus/ear noise/hearing loss)
Balance disorders
Breathing difficulties, including stridor, sleep apnea and nasal obstruction
Chronic sinusitis and sinus surgery
Ear, nose, and throat conditions
Epistaxis (nosebleeds)
Facial plastic and reconstructive surgery
Facial bone trauma
Foreign bodies (in the ear, nose and throat)
Head and neck cancers, including mouth, tongue, voice and throat
Hearing aids
Hearing loss
Hearing tests (audiology)
Larynx diseases/disorders of voice box
Nosebleeds (epistaxis)
Otolaryngology (general)
Otology (ear)
Pediatric otolaryngology (common disorders affecting children: ear infections, myringotomy and tubes, tonsillectomies and adenoidectomies; coblation procedure available)
Reconstructive surgery and facial plastics
Ringing in the ears (tinnitus)
Runny nose
Septoplasty
Speech and swallowing
Thyroid disorders and surgery
Thyroid/parathyroid disease
Tonsillectomy (coblation procedure available)
Tracheotomy (adult and pediatric)
Vertigo
Facility-to-facility video visits
Appointments are offered via facility-to-facility video visits, which reduce the need to travel far and enable patients to receive care close to home.
For a facility-to-facility video visit, patients arrive to the clinic and a nurse connects them with the specialist via video. The innovative technology uses a Bluetooth stethoscope, a USB otoscope and high definition cameras that can move and zoom in for a high-quality physical exam and personal conversation with the specialist.
Video appointments are currently offered at select locations in Wisconsin and Minnesota. Learn more about facility-to-facility video appointments.
Call us for more information or to schedule an appointment.
In certain cases, patients may be connected to services at other Mayo Clinic Health System locations for their follow-up care.
Locations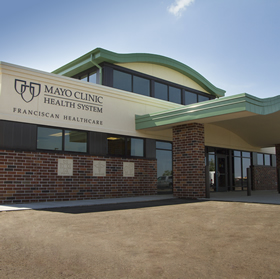 Clinic
895 S. Dettloff Drive, Arcadia, WI 54612
Hours:

Mon-Fri:

8:00 AM - 5:00 PM