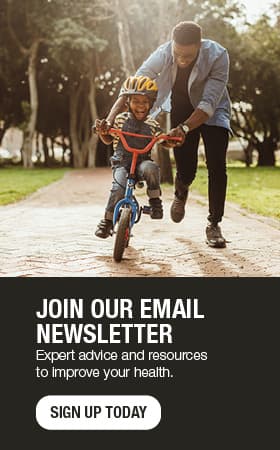 A perfect match: Wife donates kidney to husband of 43 years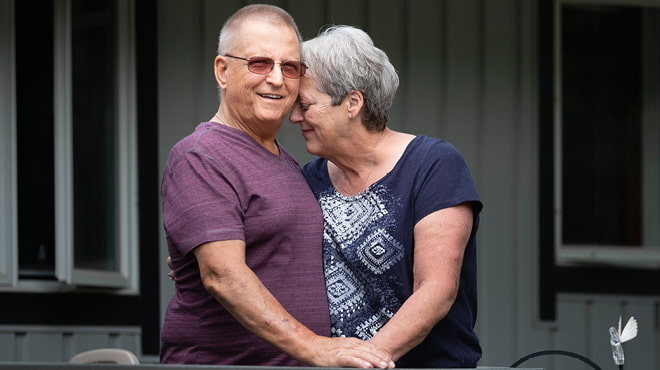 When Ed and Darlene Waters of Glenwood City, Wisconsin, got married 43 years ago, it seemed they were a perfect match. It was only recently, though, that the couple learned just how true that really was.
Ed, 71, began showing signs of kidney disease a few years ago. Mark Deyo-Svendsen, M.D., his Family Medicine physician at Mayo Clinic Health System – Red Cedar in Menomonie, noted high levels of creatinine in Ed's lab results and said it was something to keep an eye on. After Ed was treated for an infected spider bite while on vacation, his condition worsened, and he began to feel tired and run-down.
Ed was referred to Suhail Shuja, M.D., a nephrologist at Mayo Clinic Health System in Eau Claire. As Ed's condition progressed, Dr. Shuja put Ed on daily dialysis, which continued for about a year.
"When you have kidney failure and are on dialysis, it's a lifestyle change," Dr. Shuja says. "Ed had home dialysis every night, and a lot of dietary and fluid restrictions. He was struggling with it."
Ed says following the dietary restrictions was a challenge. He looked forward to a time when he could enjoy something other than bread, chicken and water. Dr. Shuja was firm in relaying the potential complications of straying from the plan. Fluid in lungs can cause respiratory failure. High potassium levels can stop the heart. High phosphorous levels can lead to bone disease or cardiovascular complications.
Dr. Shuja says it was time to look for a living donor for a kidney transplant.
FINDING THE PERFECT DONOR
Ed needed to find a healthy donor who matched his blood and tissue type. Darlene worried that she would not qualify, but after two other family members were unable to donate, she was determined to help. If she didn't match Ed, Darlene says she would have been willing to donate her kidney to someone else. But her blood group was compatible with Ed's, which allowed her to donate to him.
"When I got the call at work, I was so happy. I started crying," Darlene says. "I was just bawling. Everyone thought something was wrong."
The couple says it seems it was fate that brought them together so many years ago.
"Darlene asked me, 'Do you think we were meant to be together?' I said, 'I guess we were.'" Ed says.
Ed admits he was nervous about the surgery, but he says Patrick Dean, M.D., his transplant surgeon at Mayo Clinic's campus in Rochester, put him at ease.
"He told me everything that was going to happen and drew me some pictures," Ed says. "Everyone we worked with was so compassionate."
In Rochester, Ed and Darlene each had their own care teams.
"The teams that evaluate the recipients and donors are intentionally kept separate to ensure that the providers focus on the best interest of each patient," Dr. Dean says. "This helps us avoid any conflicts of interest."
There was a lighthearted moment just before the procedure. Ed knew Darlene was due to be wheeled into surgery 15 minutes ahead of him. When he saw a gurney wheel by, he waved and blew a kiss only to discover it was not Darlene, but another patient.
"I wonder what she was thinking," Ed says with a laugh.
FEELING BETTER TOGETHER
Ed's surgery went well, and he says he's now feeling "just super" with Darlene's kidney working inside him. Darlene says she recovered quickly and feels the same as she did before surgery.
"She's tougher than heck," Ed says.
Dr. Shuja says having regular checkups and staying on top of his health problems were the keys to Ed's good result. He advises others to follow Ed's example.
"See your primary care provider regularly, take control of your medical problems and take your medications as directed," Dr. Shuja says. "Those are the keys to good health."
Dr. Dean says Ed's and Darlene's attitudes through the process made them a pleasure to work with.
"They're a fun couple with an outstanding relationship," Dr. Dean says. "By donating a kidney to her husband, Mrs. Waters won't have to watch him suffer on dialysis. It was a pleasure to help make the transplant happen."
Ed and Darlene say they have high praise for everyone who played a part in their care in Eau Claire, Glenwood City, Menomonie and Rochester.
"They're professional and heartwarming at the same time," Ed says.
"They're not just good at what they do," adds Darlene. "They're good people."