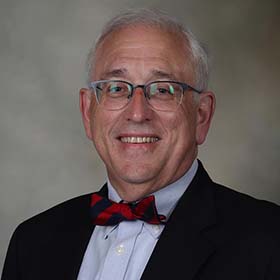 Learn more about me:
Appointment Information
La Crosse, WI
Clinic
800 West Ave. S., La Crosse, WI 54601

Appointments
Provider's Bio
I feel strongly about assessing every patient as an individual, carefully analyzing the data at hand in order to confirm the diagnosis and formulate an individualized treatment plan. It is difficult, if not impossible, to effectively treat what you cannot diagnose. I offer logical, practical, evidence-based treatments and do not offer treatments that I believe are to the contrary such as chronic opioid therapy. I believe that it is critically important for the patient to be actively involved in their journey to wellness and that includes taking responsibility for their weight, nutrition, control of harmful habits and overall health.
While completing my fellowship, I had the good fortune to train under some of the pioneers in the field of pain medicine. I was also an assistant professor of Anesthesiology and director of the Pain Management Center at Columbia-Presbyterian Medical Center. In November 2000, I established my private practice in New Jersey. In June 2022, I relocated to Southwestern Wisconsin in order to join the Mayo Clinic Health System as part of the Mayo Clinic Department of Anesthesiology, Division of Pain Medicine.
I was born and raised within the City of New York. I chose a career in medicine based upon my interested in science and fascination with the human body. At the age of thirteen, after a brief visit to Mayo Clinic as a patient, I declared that I would definitely pursue a career in medicine having been inspired by the care that I received from the Mayo Clinic staff.
Training & Credentials
Education
Bachelor's degree, Biology, University of Pennsylvania
State University of New York Downstate College of Medicine
Internship
Internal Medicine, Staten Island University Hospital
Residency
Anesthesiology, Columbia-Presbyterian Medical Center
Fellowship
Pain Medicine, University of Washington Multidisciplinary Pain Center
Certifications
Anesthesiology, American Board of Anesthesiology
Diplomate, National Board of Medical Examiners
Pain Medicine, American Board of Anesthesiology
Special Interests
Restorative neuromodulation
Spinal and peripheral radiofrequency neurotomy
X-ray and ultrasound-guided interventions
Find More Providers