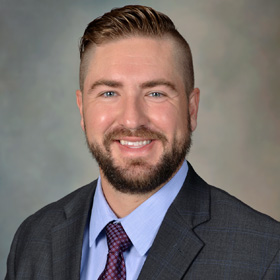 Appointment Information
Mankato, MN
Hospital and Clinic
1025 Marsh St., Mankato, MN 56001

Appointments
Provider's Bio
Providing patient education is critical to ensure patients know their options and feel supported throughout the surgical and recovery process. I lead this process with compassion and active listening to meet the individual needs of patients with the goal of a healthy outcome and an overall increase in quality of life.
As far back as I can recall, medicine and surgery have always been my passion. I began my medical career with Mayo Clinic back in 2011 in the Emergency Department and now currently serve as a Physician Assistant in the field of General Surgery. My experiences in the Emergency Department early on in my career inspired me to continue on to earn my degree as a Physician Assistant at Des Moines University, in Des Moines, IA. I am passionate about the work I engage in each day and committed to the health and wellness of each patient I serve.
On a personal note, I was born and raised in rural Minnesota. I am married and a proud uncle to my niece and nephews. In the limited spare time that I have, living near family allows me to spend quality time with them, which is time that I highly value. In addition, my wife and I love to travel any chance we get. I also enjoy being outdoors, biking, running, and golfing.
Training & Credentials
Education
Physician Assistant Program, Des Moines University, Iowa
Certifications
Basic Disaster Life Support (BDLS)
Child and Dependent Adult Abuse Mandatory Reporter Training
FEMA Introduction to the Incident Command System for Hospitals (ICS 100)
FEMA National Incident Management Systems (NIMS IS-00700.a)
Membership
American Academy of Physician Assistants
Special Interests
Assisting in DaVinci Robotic surgery. Specifically, robotic cholecystectomy, hernia repairs, and hysterectomies.
Assisting in the following Surgical Specialties: General, Bariatric, Trauma, Vascular, Thoracic, Obstetrics, and Gynecology.
Independent surgical clinic for post-operative follow-up examinations, new consults, and outpatient procedures.
Participating in MCHS Mankato Quality improvement at projects aimed at improving patient outcomes.
Preceptor to Physician Assistant Students.
Find More Providers