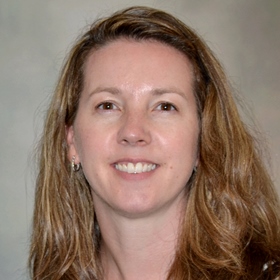 Locations & Services
Chippewa Falls, WI
Clinic
611 First Ave., Chippewa Falls, WI 54729
My services at this location:
Eau Claire, WI
Luther Campus Clinic
1400 Bellinger St., Eau Claire, WI 54703
My services at this location:
Provider's Bio
I meet with patients that have a primary care provider on our clinic care team for an individual review of medications. Your visit will include an individualized review of all your prescription, nonprescription and herbal medicines to ensure you are on the right medicines. My goal is to ensure the medicines are working as expected, and are safe and as easy to take as possible. I work with your provider and others on the care team to manage chronic conditions that are treated with medications, such as diabetes, high blood pressure, cholesterol, asthma, COPD, heart failure or depression.
I grew up in Eau Claire and am proud to have returned to the Chippewa Valley to serve my community. My family and I enjoy being outdoors during every season, especially when it's warm enough to jump in a lake. I also love to cheer for just about any Wisconsin sports team, although my favorites are Badgers men's basketball and the Packers.
Training & Credentials
Education
Bachelor's degree, Spanish and Biology, University of Wisconsin-Madison
Doctor of Pharmacy, University of Wisconsin-Madison, School of Pharmacy
Certification
Board Certified Ambulatory Care Pharmacist, Board of Pharmacy Specialties
Membership
Pharmacy Society of Wisconsin
Academic Appointment
Instructor of Pharmacy, Mayo Clinic College of Medicine and Science
Special Interests
Diabetes management
Motivational interviewing
Pharmacy student and resident teaching