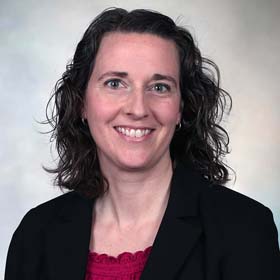 Locations & Services
Sparta, WI
Hospital and Clinic
310 W. Main St., Sparta, WI 54656
My services at this location:
Provider's Bio
I value relationships with patients and their families. As a Family Medicine physician, I see children and adults of all ages and complexity. I seek to educate and collaborate with my patients to together make health care decisions consistent with their values.
Family time with my husband and children is a priority for me, and I strive to find balance between my work and home life. I enjoy gardening, hiking, biking and quiet time spent in prayer or reading an engaging book.
Training & Credentials
Medical School
University of Wisconsin School of Medicine and Public Health, Madison
Graduate School
Master of Public Health, Portland State University, OR
Residency
Family Medicine/Preventive Medicine, Oregon Health and Sciences University, Portland
Certifications
Family Medicine, American Board of Family Medicine
Memberships
American Academy of Family Physicians
Catholic Medicine Association
Academic Appointment
Assistant Professor of Family Medicine, Mayo Clinic Alix School of Medicine
Special Interests
Chronic disease management (diabetes, hypertension, heart disease, etc.)
Fertility care medical consultant (use of natural, non-contraceptive methods to treat women's health issues)
Natural family planning/fertility awareness-based methods
Preventive health