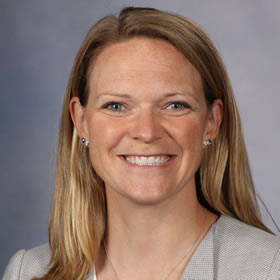 Appointment Information
La Crosse, WI
Clinic
800 West Ave. S., La Crosse, WI 54601

Appointments
Provider's Bio
I treat children and adolescents who suffer from failure to thrive, nutrition deficiencies, poor growth, iron deficiency, dysphagia, Celiac disease, Crohn's, Eosinophilic Esophagitis, GERD, inflammatory bowel disease and other general GI disorders.
My special interest lies in nutrition, and I help lead a multidisciplinary team that provides nutritional support to children and adolescents in the Mayo Clinic Children's Center hospital and clinic. Outside of my clinical practice, I am involved in several educational and research activities and provide guidance and mentorship to fellows, residents and medical students.
Training & Credentials
Medical School:
Michigan State University College of Human Medicine, East Lansing, Michigan
Residency:
Pediatrics, Helen DeVos Children's Hospital, Grand Rapids, Michigan
Fellowships:
Pediatric gastroenterology; hepatology and nutrition, University of Michigan , Ann Arbor Michigan
Pediatric clinical nutrition, Children's Hospital, Philadelphia, Pennsylvania
Certifications:
Pediatric gastroenterology, American Board of Pediatrics
National Board of Nutrition Specialists
Memberships:
American Society for Parenteral and Enteral Nutrition
North American Society for Pediatric Gastroenterology and Nutrition
Special Interests
Failure to thrive
Nutrition deficiencies
Poor growth
Iron deficiency
Dysphagia
Celiac disease
Crohn's
Eosinophilic Esophagitis
Gastroesophageal reflux disease (GERD)
inflammatory bowel disease
Other general GI disorders.
Find More Providers