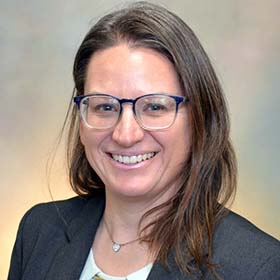 Appointment Information
Rice Lake, WI
Clinic
331 S. Main St., Suite H, Rice Lake, WI 54868

Appointments
Provider's Bio
The thing I like best about family medicine is that I have the privilege of seeing all ages of patients and at all stages of life for a variety of problems and concerns. I enjoy caring for patients at the very beginning of life (through pregnancy and childbirth), seeing children and honored to care for elderly people at end of life.
I enjoy getting to know patients and being part of a community. I'm from a small town in central Wisconsin and am very comfortable with "everybody knowing everybody." I also am fluent in speaking Spanish.
Outside of work, I enjoy a busy life with my husband and our seven children. We chase the kids around on a variety of outdoor, church, musical, school and sporting activities. We live near Barron on a hobby farm.
Training & Credentials
Education
Medical College of Wisconsin
Residency
Family Medicine, United Family Medicine, Allina Hospitals and Clinics
Certification
American Board of Family Medicine
Special Interests
Providing family medicine care to patients from birth to end of life
Find More Providers