Need to make an appointment?
Ophthalmology (Eye Diseases)
Ophthalmology
You and your family deserve the best care. That's why our board-certified ophthalmologists and optometrists at Mayo Clinic Health System in Sparta collaborate every day to give you the benefit of Mayo Clinic care close to home.
Our team's commitment to bring you the latest advances in eye care and surgical procedures help you remain close to your home and family so you can recover quickly and get back to what you love sooner. We are specialty trained in the diagnoses and treatment of eye diseases, including glaucoma, cataracts, macular degeneration, as well as eye infections.
No referral is necessary.
---
Why choose us
Mayo Clinic Health System brings all the eye care knowledge and expertise of Mayo Clinic to you. Our hometown Ophthalmology and Optometry teams deliver expert care tailored to your exact needs, supporting you and ensuring your eyes are at optimal health.
Our Ophthalmology and Optometry teams in Sparta offer comprehensive eye care including:
Greater access to eye care services
Patient-focused care
Our team is guided by Mayo Clinic's primary value: The needs of the patient come first. We place your needs above all else and will work with you to develop an individualized care plan just right for you.
Coordinated eye care
In a successful team, each member plays a critical role and makes the team stronger. We offer a full complement of surgical and nonsurgical eye care services. From routine eye exams to minimally-invasive surgical treatments, our team of experts is with you every step of the way.
Surgical experience
Better surgical outcomes for patients
Our board-certified ophthalmologists use the latest techniques and advanced technologies to provide a personalized surgical solution. Our surgeons perform minimally invasive procedures for less pain and a quicker recovery.
Locations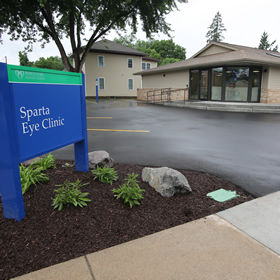 Sparta Eye Clinic
400 Jefferson Ave., Sparta, WI 54656
Ophthalmology Hours:

Tue:

8:00 AM - 5:00 PM

Call for additional appointment days and times.
Providers