Need to make an appointment?
Eye Care Services & Treatment in La Crosse
You and your family deserve the best eye care. That's why our experienced ophthalmologists and optometrists in La Crosse, Wisconsin, collaborate to give you the benefit of Mayo Clinic care close to home. The team is specialty-trained in diagnosing and treating eye diseases, including glaucoma, cataracts, macular degeneration and eye infections.
Whether you need an eye examination, contact lens fitting, treatment for an eye infection or specialized vision testing, we are committed to bringing you the latest advances in eye care, including minimally invasive procedures for less pain and a quicker recovery.
Find out more about our ophthalmology and optometry services:
Conditions and consultations
Our eye care team, which includes ophthalmologists and optometrists, provides consultations and a personalized treatment plan.
Conditions we treat include:
Foreign body removal
Crossed eyes (adults)
Diabetic eye issues
Dry eye
Eye infections
Glaucoma or damage to the optic nerve
Macular degeneration and other retinal conditions
Diagnosis and treatments
We specialize in diagnosis and treatment of conditions affecting the eye — whether you need an eye exam or specialized eye surgery.
Treatments we provide include:
Adult and pediatric eye care
Cataract surgery
Contact lens fitting
Foreign body removal
Laser surgery for diabetes, glaucoma and retinal problems
Low-vision eye exams
Routine eye exams
Specialized eye exams
Surgical interventions
Vision testing
Eye specialists
From routine eye exams to minimally-invasive surgical treatments, our team of specialty-trained experts is with you every step of the way, whether you need nonsurgical or surgical eye care.
Our specialists include:
Ophthalmologists — board-certified eye doctors who use the latest techniques and advanced technologies to provide personalized, minimally invasive surgical solutions for less pain and quicker recovery
Optometrists — doctors who examine, diagnose and provide nonsurgical treatment for eye disorders and diseases
Additional services may be provided by Optical Services for eyewear products.
Referrals
You can make an appointment without a referral from your provider — simply call the appointment number of your preferred Ophthalmology & Optometry location. Note that some conditions may require a referral, which we can help you get.
FAQ
What should I bring for my first appointment?
For your first appointment, bring your current prescription information or medical records from non-Mayo Clinic Health System facilities. Complete a medical records release form to authorize the transfer of health records from another health care facility to us. Visit our Medical Record Forms page for this form and other forms in multiple languages.
What are my payment options, and do you offer financial assistance?
Visit the billing page of your preferred location for information on insurance, billing and payments.
We serve patients in difficult financial circumstances and offer financial assistance to those with an established need to receive medically necessary services. Learn more about financial assistance options.
Can you provide a second opinion?
Yes — call the appointment number at your preferred eye care location.
Do you have an after-hours number in case of emergency?
Always call 911 in case of emergency. For after-hours help with other issues, visit our Nurse Line page or review our convenient care options.
Locations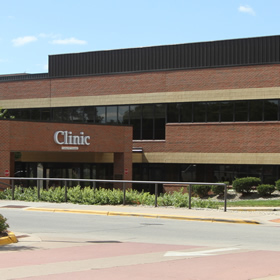 Clinic
800 West Ave. S., La Crosse, WI 54601
Hours:

Mon:

7:30 AM - 5:00 PM

Tue:

8:00 AM - 5:00 PM

Wed:

7:30 AM - 6:00 PM

Thu-Fri:

7:30 AM - 5:00 PM

Ophthalmology & Optometry hours vary.