Need to make an appointment?
Obstetrics & Gynecology (OB-GYN)
Obstetrics & Gynecology (OB-GYN)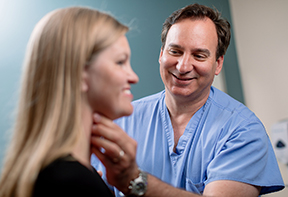 Our OB-GYN staff cares for women in all stages of life, from adolescent to pregnancy to menopause. We provide surgical and nonsurgical services for a variety of female issues. We view our role in women's health as a partnership – helping you understand the options available – so you can make decisions that fit your lifestyle.
A multidisciplinary team of experts collaborate to provide individually-driven care for women, including:
Minimally invasive treatment for heavy periods
Menopause treatment including treatment for hot flashes and osteoporosis
Traditional treatment of disease
Adolescent gynecology
Education
Prenatal care
Childbirth, including trial of labor after cesarean/C-section (TOLAC) and vaginal birth after cesarean (VBAC)
Laparoscopic surgery
Obstetrical and gynecologic ultrasound
Cancer screening
Family planning
Urinary incontinence
Traditional gynecological surgeries
Weight management
Explore our services in depth in the menu and talk with your insurance provider to find out what procedures may be covered. If you have any questions about OB-GYN services offered, call us at the number below.
Locations
Clinic
312 N. Main St., Janesville, MN 56048
Hours:

Mon-Wed:

8:00 AM - 5:00 PM

Fri:

8:00 AM - 5:00 PM

Closed from 12-12:45 daily. Clinic hours subject to change on holidays.
Related Upcoming Classes and Events View More