Need to make an appointment?
Anticoagulation
Anticoagulation
If you're taking anticoagulation medications such as Coumadin (warfarin) to prevent blood clots, close monitoring is essential and we're here to help. Illnesses, medications and some foods influence Coumadin's effect on blood clotting. Regular blood tests and dose adjustments are necessary to avoid bleeding while preventing undesired clotting.
Mayo Clinic Health System anticoagulation services are staffed by clinicians with advanced anticoagulation training. They work with your primary care provider and other specialists to help you manage your anticoagulation therapy.
Services include:
Point of care (finger stick) testing
Anticoagulation medication adjustment
Close supervision of treatment to ensure effectiveness and monitor side effects
Screening and education about food and drug interactions
Bridging therapy in the event of surgery or other procedures
Learn more about our services in the menu or call us at the number below.
Locations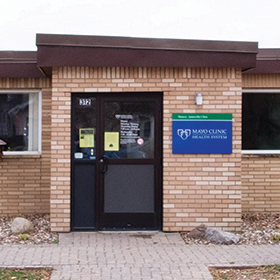 Clinic
312 N. Main St., Janesville, MN 56048
Hours:

Mon-Tue:

8:00 AM - 5:00 PM

Thu-Fri:

8:00 AM - 5:00 PM

Closed from 12-12:45 daily. Clinic hours subject to change on holidays.