Need to make an appointment?
Anticoagulation in Ellsworth, Wisconsin
Anticoagulation services are available when your clinician has prescribed an anticoagulation medicine (blood thinner) to reduce your chance of developing blood clots that could harm you. Anticoagulation services in Ellsworth, Wisconsin, is staffed by clinicians with advanced anticoagulation training. They work with your primary care provider and other specialists to help you manage your anticoagulation therapy.
Services include:
Point-of-care (finger-stick) testing, performed by Pathology
Anticoagulation medication adjustment
Close supervision of treatment to ensure effectiveness and monitor side effects
Screening and education about food and drug interactions
Bridging therapy in the event of surgery or other procedures
All services are provided virtually, with the exception of point-of-care (finger-stick) testing, which can be performed at any laboratory location at Mayo Clinic or Mayo Clinic Health System.
What is the benefit of using anticoagulation services?
Warfarin, also known as Coumadin®, is the most common medication used to prevent blood clots. It has many uses, and may be given to patients before surgery, to help manage heart disease, or to people with a history of blood clots. Despite its usefulness, warfarin may affect people differently and patients need to be watched closely to make sure each dose is working safely. Regular anticoagulation checkups help you better monitor your medicine and get better results because you get immediate feedback and education about ways to avoid reactions.
Will my insurance pay for anticoagulation services?
Anticoagulation services are covered by most private insurance carriers and through Medicare. Check with your insurance carrier for coverage limits or copayments. Medicare will generally pay for anticoagulation services without requiring a copayment.
Locations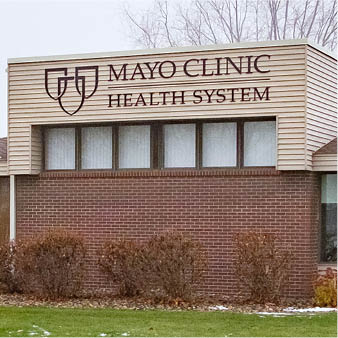 Clinic
530 W. Cairns St., Ellsworth, WI 54011
Hours:

Mon-Fri:

7:30 AM - 4:30 PM