Need to make an appointment?
Pediatric & Adolescent Medicine
How Do You Know What Type of Care to Seek? 
All health care professionals want to provide you with the best possible health care in a convenient and timely fashion. That's why care is offered in a variety of settings. Learn more.
Pediatric & Adolescent Medicine
Need a primary care provider for your child?
Finding the right pediatric primary care provider for your child in Belle Plaine, Minnesota, is an important step toward a healthy childhood. From routine exams to management of serious illnesses, a primary care provider is your consistent source of medical support.
Is your child feeling sick?
We'll help you get the right care your child needs, often over the phone. Call us to schedule an appointment or call our Nurse Line to determine if your child can be cared for at home, through an office visit, or if immediate medical attention is required. For emergencies, call 911.
Expecting a child?
Schedule a tour at the Family Birth Center in New Prague.
Vaccinations
Disease prevention is crucial to your health. Getting vaccinated is one of the best ways to maintain good health, and protect you and those you care about against infectious diseases. Vaccinations offer protection against serious diseases by stimulating the immune system to create antibodies against certain bacteria or viruses.
Get vaccine guidance from Mayo Clinic, including benefits, safety, side effects and what to know about recommended vaccines for babies, children, teens, adults and during pregnancy. For recommended vaccines based on age, refer to the adult or child and adolescent schedules.
Review the history of infectious disease outbreaks and vaccines timeline for information about major disease outbreaks, epidemics and pandemics, and the impact of vaccines and research.
Locations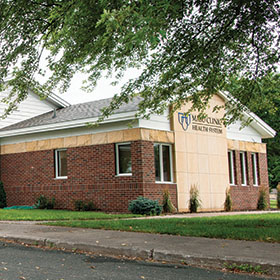 Clinic
700 W. Prairie St., Belle Plaine, MN 56011
Hours:

Mon:

8:00 AM - 5:00 PM

Wed:

8:00 AM - 5:00 PM
Related Upcoming Classes and Events View More