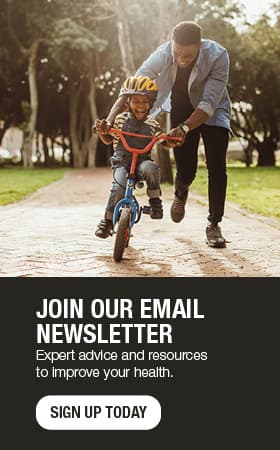 Woman gets answers, life back after distressing digestive issues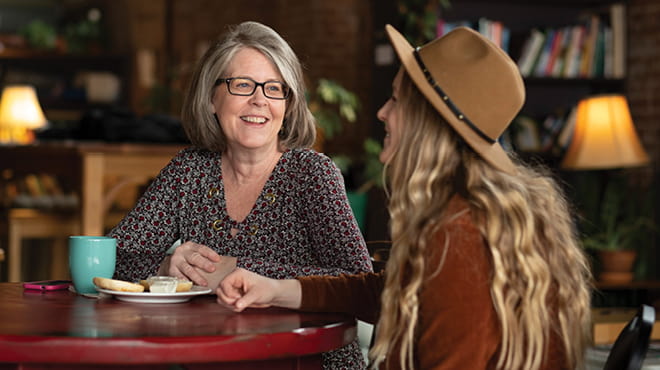 Lynda Rassbach's daughter was trying on wedding dresses for a group of friends and relatives in Minneapolis, Minnesota. Lynda wasn't one of them.
"I didn't get to be there," Lynda says. "I had to watch via Facetime."
In the months leading up to that day, the Chetek, Wisconsin, woman's world had gotten smaller and smaller. She'd had to quit work. She couldn't go shopping. She missed that milestone day with her daughter. "You can't replace those moments in time," says Lynda.
That moment and so many others had been stolen by a medical mystery that involved severe, persistent pain and diarrhea that left Lynda rushing to the bathroom, sometimes as many as 20 times a day. "It was misery," Lynda says. "I lost all aspects of my life. I couldn't even get in the car and go anywhere. I didn't know if it was ever going to end."
Troubling digestive symptoms, no answers
When Lynda's symptoms first began in May 2018, she wasn't overly concerned. The problem, she assumed, would be temporary. "I'm a wait-and-see kind of girl," says Lynda, then 56. "I figured I would wait, and they would go away."
Instead, the symptoms got worse. The pain became more severe and the diarrhea more frequent. In June, Lynda visited a walk-in clinic, but walked out without a diagnosis. "They ran some tests and found nothing," she says. "They told me if I didn't start feeling better to come back. I felt like I was dismissed and sent out the door."
The symptoms persisted and began to have a bigger impact on Lynda's life. She had to quit her job in the food service industry. She lost 20 pounds, and her hair began to fall out. And she became depressed. "I wondered if I was dying," Lynda says. She scheduled an appointment with a gastroenterologist who performed a colonoscopy and told Lynda that her gallbladder was causing her symptoms. She was prescribed a steroid and told her gallbladder should be removed.
But that diagnosis "didn't seem right," Lynda says. "I didn't feel like I'd really been listened to or looked at." So Lynda went to a different doctor for another opinion; this time, she was told she had Crohn's disease and should start taking an immunosuppressive medication. "That was scary to hear," she says. "It was a huge decision to make. I was so confused, so anxious."
Before she could decide whether to take the additional medication, Lynda had a bout of diarrhea so extreme that it led to a five-day hospital stay. Doctors there diagnosed her with pancreatitis.
"Three different physicians had given me three different ideas about what was happening," Lynda says. She didn't have faith in any of them. "I felt like every doctor I saw was in a hurry to put me in a box. They weren't listening. And as soon as I knew they weren't listening to me, I didn't want to listen to them. I didn't trust them."
Life-changing care
Lynda was scared and unsure of what to do. It had been eight months since her symptoms first started, and she was long past thinking they would resolve on their own. She wasn't sure a doctor could help her, either. "I'd lost faith in medical providers," she says. "But a little voice in my head — I believe it was the voice of God — told me I needed to try one more time."
That's when Lynda decided to call Mayo Clinic Health System in Eau Claire. She was scheduled to see Judy Nichols, a nurse practitioner in Gastroenterology.
"My life changed that day," Lynda says. "Judy walked into the office, looked straight into my eyes and recounted my entire medical history. She didn't look at her notes; she looked at me. Afterward, she asked if she'd recalled everything correctly, and if there was anything I wanted to add. It was a night-and-day difference from what I'd experienced other places. I felt like the only person on her schedule."
Learning Lynda's story was important, Judy says.
"Lynda had been on a long journey prior to seeing me, and she had a story to tell," Judy says. "Allowing her to summarize what she had experienced gave me vital information about what examinations had been done, what treatments had been tried and, hopefully, gave her the validation that she needed."
After listening to Lynda's story, Judy recommended several additional tests. It was a Friday, and Lynda wouldn't be able to have the tests until after the weekend. Until then, Judy suggested she try taking a new medication called cholestyramine.
"Judy told me she had a hunch that I had bile acid malabsorption and that, if so, the medication would help," Lynda says. That hunch proved life-changing. "One day after I took that magic elixir, the diarrhea was gone."
A new normal
Nichols had referred Lynda to a colleague for an endoscopic ultrasound. The new test enabled Lynda's care team to finally identify the cause of her issues. In addition to bile acid malabsorption, she had ulcerative colitis. Finally, Lynda had the answers she had been searching for — and a plan for treating the conditions.
"We came up with a plan of treatment together," says Lynda. "I trust them. They take time to listen to me and talk with each other about my case. Their brilliant minds came together to solve this problem. They've always made me feel that they cared about me and had compassion for me."
Judy believes that's a vital part of the healing process.
"When a health care team has empathy for the patients that they serve, the outcomes often become more positive," she says. "Empathy leads to trust, commitment and, often, to the achievement of common goals."
Today, Lynda is returning to the life she loved. She's started working again, regularly visits her children and is looking forward to her daughter's wedding.
"I feel like I've gotten my life back," she says. And while that life has changed — she has modified her diet and takes several new medications — they're changes she can live with. Especially, she says, "knowing that I have physicians I can trust."
Judy says that's an important part of Lynda's health care prescription.
"Studies have shown that patients who trust their health care providers are better satisfied with their care and are better able to manage their health," Judy says. "If something is gnawing at your insides about a recommendation or a plan, you owe it to yourself to be thoughtful. Very few health care decisions have to be made on the spot. If something doesn't feel right, research your situation and consider another option. Listen to your gut."
Lynda is glad she did.
Learn more about digestive conditions and screenings: