Face Mask Required
We require staff, patients and visitors to wear a face covering or mask to slow the spread of COVID-19. Please bring your own face mask or covering to wear while at one of our facilities.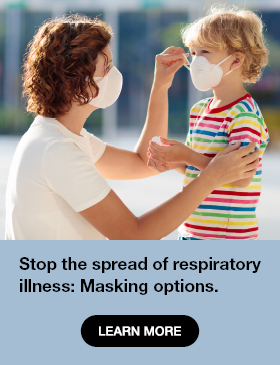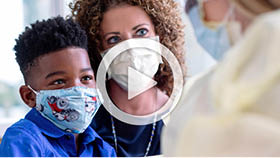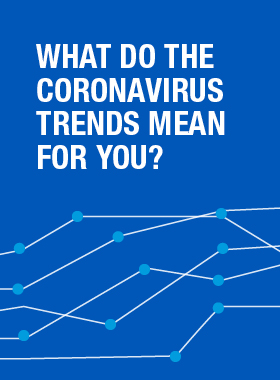 COVID-19 Email Newsletter
Sign up for our new COVID-19 email newsletter to get all of the latest information delivered to your inbox.
Sign up
Event Cancellations
In line with precautions advised by the Centers for Disease Control to limit possible transmission of COVID 19, and to keep our campuses as safe as possible for our patients and staff, we are cancelling many events hosted by Mayo Clinic Health System. Please visit our Classes and Events to check on your class or event.
For Your Information
You can find more information here:
COVID-19 (Coronavirus)
The Midwest is experiencing a COVID-19 surge, and Mayo Clinic Health System is seeing many more patients in its hospitals. In a new video message, Mayo Clinic Health System leaders Bobbie Gostout, M.D., and Mary Jo Williamson encourage you to keep your guard up, make thoughtful choices and take seriously your social responsibility to protect your family, your neighbors and your community:
---
What to do if you suspect you have COVID-19
COVID-19 is a respiratory virus that can easily spread. It shares several symptoms with influenza, but it's treated differently. If you are showing any sign of possible COVID-19 symptoms, call our COVID-19 Nurse Line at 507-293-9525 to learn about getting tested or contact your local health care provider. If you meet testing criteria, you will be directed to one of our local testing sites.
For the latest trends in COVID cases near you, please visit the Mayo Clinic's U.S. Coronavirus Map. For additional information about COVID-19, read the FAQs at the bottom of this page.
---
Local care information
During this unprecedented time, Mayo Clinic Health System has continued to successfully support patients and address their health care concerns during the COVID-19 pandemic, in strict adherence with state and federal executive orders.
This time was also used to enhance safety measures to provide a safe environment for patients and staff, including:
Robust patient, staff and visitor screening
Masking for patients, staff and visitors
Enhanced cleaning of patient care, staff and waiting areas
Expanded COVID-19 testing capabilities for patients who are scheduled for a treatment, procedure or surgery
These factors combined with new COVID-19 forecasts make us confident we can begin providing more face-to-face care to patients in addition to the virtual care options we have available. The video below walks you through a tour of all the changes we have made to make our locations safe.
---
If you'd like to make an appointment
Our teams are working quickly to connect with patients who need our most urgent attention first. Appointments that involve imaging, labs or other tests and treatments will be scheduled in person. Virtual appointments will continue to be an option for patients who do not need to be seen in person. If you'd like to make an appointment, visit our Request an Appointment page and select the location at which you'd like to be seen.
Some Mayo Clinic Health System locations are delaying certain elective routine visits, screenings and procedures. Contact your health care provider if you have concerns about a delay or have questions about your care during this time.
Below are details about the scheduling process and efforts to help patients prepare for in-person appointments. Following these temporary measures will help protect you, your care team and all of our patients. We will notify you should anything change.
If you have an urgent need, please do not delay care, whether it is COVID-19 related or not. Our emergency departments are open and our staff are prepared to care for you.
Mayo Clinic Health System Locations and Phone Numbers
Armstrong — 712-864-3360
Lake Mills — 641-592-2361

Adams — 507-582-3547
Albert Lea — 507-373-2384
Armstrong — 712-864-3360
Austin — 507-433-7351
Belle Plaine — 952-873-2276
Blooming Prairie — 507-583-7225
Blue Earth — 507-526-4642
Caledonia — 507-725-3353
Cannon Falls — 507-263-6000
Fairmont — 507-238-8100
Faribault — 507-333-3300
Janesville — 507-231-5118
Kasson: Primary Care — 507-284-3967
Kenyon — 507-789-6171
Lake City — 651-345-3321
Lake Crystal — 507-726-6966
Le Sueur — 507-665-6299
Mankato — 507-625-4031
Montgomery — 507-364-5600
New Prague — 952-758-4461
Owatonna — 507-451-1120
Plainview — 507-534-3169
New Richland — 507-465-3216
Red Wing — 651-267-5000
Rochester — Clinics are temporarily changing their hours:

The Baldwin Building (second floor) will open on Sunday from 10 a.m. to 2 p.m. to see patients by appointment for acute care needs.
All Rochester clinics will close at 5 p.m. Monday through Friday. This includes the evening prenatal clinic at Primary Care in Kasson.
Call your primary care team to schedule an appointment:

Baldwin Building — 507-284-5300
Northeast — 507-538-8500
Northwest — 507-538-8555
Southeast — 507-293-8590

Sherburn — 507-764-4610
St. James — 507-375-3261
St. Peter — 507-931-2110
Trimont — 507-639-9301
Truman — 507-776-2811
Waseca — 507-835-1210
Waterville — 507-362-4221
Wells — 507-553-6341
Zumbrota — 507-732-7314

Arcadia — 608-323-3373
Barron — 715-537-3186
Bloomer — 715-568-2000
Chetek — 715-924-4811
Chippewa Falls — 715-720-4400
Eau Claire — 715-838-5222
Ellsworth — 715-273-5061
Elmwood — 715-639-4151
Glenwood City — 715-265-7321
Holmen — 608-526-3351
La Crosse — 608-785-0940
Menomonie — 715-235-5531
Mondovi — 715-926-4858
Onalaska — 608-392-5000
Osseo — 715-597-3121
Prairie du Chien — 608-326-0808
Rice Lake — 715-236-8500
Sparta — 608-269-1770
Tomah — 608-372-5951
What do I need to know about my in-person appointment?
We will ask you a few questions when you schedule your appointment to help identify any symptoms or recent exposures you may have had to COVID-19.
Appointment reminders will be sent, as per normal method and frequency.

Patients, visitors and staff are required to wear a mask to decrease the risk of COVID-19 exposure. Please bring your own face mask or covering to wear while at Mayo. The Centers for Disease Control and Prevention has details on appropriate face coverings.
You are also being asked to not bring children under age 13 unless they are actively receiving care in the clinic setting.
Due to additional screening activities when entering Mayo Clinic Health System buildings, please allow extra time upon arrival (approximately 15 minutes).
Valet services are not available.

Hospital and emergency department areas

Mayo Clinic Health System has taken several temporary measures to keep you safe. Below is more information to help you prepare for your appointment.

Please check the relevant link below for visitor restrictions within your region.

As response to the pandemic evolves, we will continue to update. Check back frequently before visiting

:

Exceptions include considerations for childbirth, end-of-life care, hospitalized children, and other rare and unique circumstances reviewed on a case by case basis by the care team.
Mayo Clinic Health System is requiring patients, visitors and staff to wear a face covering or mask to slow the spread of COVID-19.

Your cooperation with these temporary guidelines is very much appreciated. It is difficult to not be able to visit your friends and family, but these are necessary and appropriate steps that will help ensure that you and your loved ones remain protected.
What are my other health care options?
What you need to know about COVID-19 testing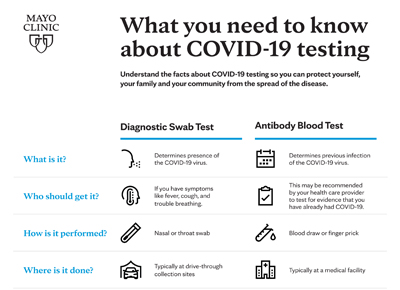 Confused about COVID-19 testing options? Let us help you understand the facts about COVID-19 testing so you can protect yourself and others. Click on the thumbnail image to view a printable infographic on COVID-19 testing facts. The flyer provides a general overview of the different tests. Be sure to check with your local site to confirm what they are able to offer.
The infographic also is available in these languages:
Plasma Donation
Researchers are testing the use of donated blood as a treatment for people with severe coronavirus disease 2019 (COVID-19). If you find out you are positive for the COVID-19 antibody, you may be eligible to donate plasma and help others. Get more information from Mayo Clinic on plasma donation for COVID-19.
Visitor restrictions and temporary service changes
To protect our patients and staff, we are restricting visitors while there is a threat of COVID-19 transmission, and have temporarily closed some locations, adjusted hours or shifted to alternative appointment types, such as video or phone visits. In addition, pharmacies began curbside pickup.
Get details for your location:
As response to the pandemic evolves, we will continue to update. Please check back before visiting.
Employers who are seeking to have their employees tested for COVID-19
Expand for information for employers

If you have employees showing symptoms of COVID-19, we strongly recommend they call the COVID-19 Nurse Line at 507-293-9525 for immediate assistance.

Employers with Occupational Health needs or questions regarding COVID-19

Southeast Minnesota (Albert Lea, Austin, Cannon Falls, Faribault, Lake City, Owatonna and Red Wing)

Southwest Minnesota

(Fairmont, Mankato, New Prague, St. James, Waseca)

Printable flyers are available to post in your workplace in the following languages:

For guidance on how to manage COVID-19 in your workplace, visit the CDC website for up-to-date information.

What local business should know about COVID-19

Stacey Rizza, M.D., infectious disease specialist at Mayo Clinic, met with members from local chambers of commerce to share updates COVID-19. Dr. Rizza discussed the virus, treatments and the role of vaccines. She also fielded questions on symptoms, testing, quarantining and best preventive practices for businesses to keep employees and customers and clients safe and healthy. The webinar was posted on Sept. 19, 2020.
COVID-19 FAQs
What should I know about COVID-19 and flu?

It's especially important to get your flu vaccine this year, because the flu and coronavirus disease 2019 (COVID-19) will likely be circulating at the same time and cause similar symptoms.

Learn more about coronavirus and flu similarities and differences.

The flu vaccine doesn't protect you from COVID-19. But getting a flu vaccine could reduce flu symptoms that could be confused with COVID-19 symptoms. Getting your flu vaccine can also help lessen the impact on health care providers and hospitals by reducing the number of people with severe flu and hospitalized with the flu.

Why getting vaccinated for the flu is doubly important this season

Watch Gregory A. Poland, M.D., a Mayo Clinic vaccine expert, explain why it's important to get the flu vaccine this year.

It's also important to follow precautions to reduce the spread of flu and COVID-19. For example:

Wash your hands regularly
Avoid touching your face
Cover your coughs and sneezes
Avoid crowds
Avoid anyone who is sick
Stay home if you're sick
Clean high-touch surfaces often
Take other precautions to reduce your risk of COVID-19, such as practicing social distancing and wearing a cloth face mask when around people outside your household

Find out more about the flu:

What exactly is coronavirus?

COVID-19 is a newly identified respiratory virus in the coronavirus family, but it is more severe and spreads easily. Diagnosis is difficult because it shares several symptoms with influenza. COVID-19 infection may appear two to 14 days after exposure and can include fever, cough, and shortness of breath or difficulty breathing.

What are COVID-19 symptoms?

The signs and symptoms of COVID-19 are wide-ranging and may appear two to 14 days after exposure. Common signs and symptoms can include:

Early symptoms of COVID-19 may include a loss of taste or smell. Other symptoms can include:

Shortness of breath or difficulty breathing
Muscle aches
Chills
Sore throat
Runny nose
Headache
Chest pain
Pink eye (conjunctivitis)

This list is not all inclusive. Other less common symptoms have been reported, such as rash, nausea, vomiting and diarrhea. Children have similar symptoms to adults and generally have mild illness.

The severity of COVID-19 symptoms can range from very mild to severe. Some people may have only a few symptoms, and some people may have no symptoms at all. Some people may experience worsened symptoms, such as worsened shortness of breath and pneumonia, about a week after symptoms start.

What should I do if I have symptoms of COVID-19?

If you are showing any sign of possible COVID-19 symptoms, please contact your local health care provider. Your provider or a nurse will direct you to our dedicated COVID-19 Nurse Line. If you meet testing criteria, you will be directed to one of our local testing sites.

Help us minimize potential exposure to other patients by not coming into a clinic or hospital to be tested. Please call your local provider first to find out how to be evaluated. Our Express Care, Urgent Care and Same Day Clinics are open and available by appointment only.

How is COVID-19 transmitted?

COVID-19 is thought to spread similarly to influenza. That is, it spreads person to person through respiratory droplets from an infected person's cough or sneeze. These droplets can land on surfaces within about 6 feet and can spread to other people after they contact these infected surfaces with their hands and subsequently touch their face.

Can I catch COVID-19 from contact with an object rather than a person?

Yes, you can catch COVID-19 from an object if the surface of that object has live virus on it. How long the virus can live outside an organism is unknown. Expert estimates range from a few hours to up to nine days, depending on the type of surface, surrounding temperature and environment.

What is Mayo Clinic Health System doing to protect patients?

Mayo Clinic Health System's number-one priority is the safety of our patients and staff. We have implemented numerous safety measures, including robust patient screening, universal masking, and enhanced cleaning of patient care, staff and waiting spaces. Mayo Clinic Health System staff at all locations have been trained and are prepared to care for patients with serious infections like COVID-19. We stand ready to assist our patients, visitors and employees.

How can I get my medical records?

Mayo Clinic patients can access their medical information in multiple ways.

You can obtain medical records by:

Securing free secure online record access via Patient Online Services

Contacting the appropriate regional office below to arrange for mailing of the records

1) Create an online account through Mayo Clinic Patient Online Services for free record access. Many patients prefer this option due to cost and convenience.

Visit our Patient Online Services page and click "Log in to Patient Account" in the upper right corner and request a new account.
Complete the one-time account creation process online.

Creating your own account gives you access 24/7 to a select set of medical records (for example, your lab results and radiology reports, clinical notes, medication list, allergy list and vaccinations) as well as your patient itinerary (schedule). You may print your own copies of this information whenever you choose at no cost.

Patent Online Services is available both via mobile app (iPhone, Android) and web browser.

2) Due to the COVID-19 pandemic, Mayo Clinic has temporarily closed all in-person locations where patients typically pick up copies of their protected health information.

You may obtain your medical records by:

Southeast Minnesota

Southwest Minnesota

Wisconsin

Should I be concerned if Mayo Clinic Health System is treating COVID-19 patients and/or should I cancel my appointment at Mayo Clinic Health System?

No. We will treat patients with a suspected infectious disease with an abundance of caution. Mayo Clinic Health System is dedicated to being a reliable partner in helping you manage your health by providing a safe environment.

Can a person have COVID-19 without having symptoms?

Is Mayo Clinic Health System prepared to handle these COVID-19 cases?

Yes, Mayo Clinic Health System is prepared to treat patients with COVID-19, and will treat patients as part of a community wide plan in coordination with public health authorities.

What is a video appointment?

Scheduling a video appointment is one option to connect with a provider at this time. You will be able to connect with your provider using Patient Online Services and communication software that follows health information privacy rules.

How is a patient assessed for COVID-19?

The basic premise of preventing disease transmission is to identify patients who show symptoms, isolate those patients from others for appropriate assessment, and inform appropriate staff and authorities for further response. If people appear with symptoms, they will be asked to wear a mask and answer a series of questions about their health and travel. Based on their answers and vital signs, they will be isolated from other patients while COVID-19 test results can be verified. This may take several days.
Patients who test positive for COVID-19 are isolated and treated. Currently, there is no antiviral treatment for COVID-19. Specific interventions are taken in more severe cases, or with patients with compromised immune systems or complex illnesses.

What is the COVID-19 self-assessment tool?

When you log in to Patient Online Services on the web or through the Mayo Clinic app, you'll see a link to a free COVID-19 self-assessment tool. On the homepage of Patient Online Services, you'll be able to access an online COVID-19 self-assessment tool. Click on that tool, and you'll be asked to answer a few questions. You'll immediately receive a response providing information on whether you may need to be tested for COVID-19 or not.

What can I do to protect myself against COVID-19?

To avoid COVID-19, you should:

Practice social distancing.
Wear a cloth mask as recommended by CDC guidelines.
Keep your hands clean.
Avoid touching your eyes, nose and mouth.
Cover your cough and sneezes to keep germs from spreading to others.
Clean and disinfect high-touch surfaces routinely.
Avoid close contact with people who are sick.
Stay home when you are sick.

Should I wear a face mask while out in public?

In light of new data about how COVID-19 spreads, along with evidence of widespread COVID-19 illness in communities across the country, the CDC recommends that people wear a cloth face covering to cover their nose and mouth in the community setting. This is an additional public health measure people should take to reduce the spread of COVID-19 in addition to (not instead of) social distancing, frequent hand cleaning and other everyday preventive actions. A cloth face covering is not intended to protect the wearer, but may prevent the spread of virus from the wearer to others. This would be especially important in the event that someone is infected but does not have symptoms. A cloth face covering should be worn whenever people must go into public settings (grocery stores, for example). Medical masks and N-95 respirators are reserved for health care workers and other first responders as recommended by current CDC guidance.

How will I know if there are cases of COVID-19 in my community?

Local departments of public health and the CDC are responsible for publicly reporting COVID-19 cases.

Mayo Clinic Health System is committed to the privacy of its patients and complies with all applicable laws, including the Health Insurance Portability and Accountability Act, or HIPAA. As always, Mayo Clinic Health System does not share patient-specific information with the media without prior authorization. Also, Mayo Clinic Health System collaborates with public health authorities, including the CDC and local public health authorities, as appropriate. These authorities are best-positioned to provide public health information.

Many of these answers reference statements and standards already communicated by the CDC — the definitive source for prevention and procedure for infectious diseases in the U.S.